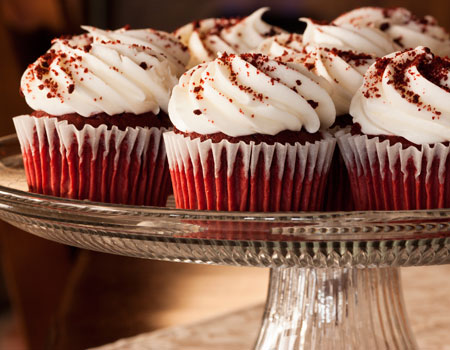 December is here and the shops are filling up with all manner of tempting festive treats from winter fashion and beautifying gift sets to chocolate coins and mulled wine. We're all for getting into the Christmas spirit, but if we keep giving in to comfort foods and indulgent nights out it won't be long before that trusty LBD refuses to zip up.
Once party season gets into full swing we'll be surrounded by even more delicious nibbles and canapés, washing them down with calorific drinks on a nightly basis – not good for our pre-Christmas diet. If you've just spent lots of money on a gorgeous dress you're determined to show off, follow our guide to healthy indulgence this party season…
Swap wine for spirits
Christmas time, mistletoe and wine… It's a classic combination, but bad news if you're trying to 'be good' this season (whether that means not over indulging or not dancing on the tables). A large glass of wine contains approximately 180 calories. Consume two or three glasses a couple of times a week over the festive period and come New Year's Day you might notice the effects on your waistline - no matter how energetic a dancer you are. Try swapping wine for a low calorie mixer like vodka lime and soda or gin and slim line tonic which contain around 50 calories per single serving. Just be wary, this does not mean you get to drink more of them…
To keep track of how much alcohol you are drinking this Yule time take a look at Change4Life's Drinks Checker. Enter the number of drinks you consumed and it will convert it to calories and money spent and rate it against your recommended daily allowance.
Snack wisely
If you're throwing or attending a Christmas party this December you're likely to come into contact with lots of delicious nibbles, aka small snacks that are easy to eat without even really noticing. A bowlful of nuts is a staple at any party and while plain nuts have lots of great health benefits, the honey roasted or salted kind are incredibly calorific (and incredibly moreish). An average serving of peanuts has roughly 290 calories, with a whopping 225 from fat. Save some calories by swapping a handful of nuts for a handful of pretzels (110 cals per serving) or a few handfuls of popcorn the snack of the year, which is so low calorie, and low fat (unless coated in chocolate) that you can enjoy snacking free from guilt. In other words, go nuts…
Just desserts
While the classic Christmas pudding might not be the most tempting thing on a menu, Christmas desserts these days are varied, delicious and found in abundance at this time of year. Yule log, warm mince pies and clotted cream, and - our personal favourite - the cheese plate, which gets bigger and better stocked than ever over the festive period. When faced with a buffet and bevy of beautiful puds a couple of good rules are to A) only have one and B) steer clear of heavier or stodgier desserts. Things like cheese cakes and chocolate brownies tend to be more fattening than fruit-based desserts like crumble or, party favourite, pavlova, so try and go for the lighter looking option. Avoid extras like cream and custard, which can add up to 150 unnecessary calories, then head straight to the dance floor and put that sugar rush to good use.