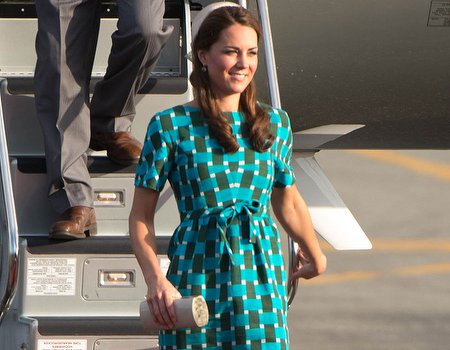 After recently touching down from a not particularly long-haul flight and discovering to our horror that we did not look like Miranda Kerr does when she gets papped at LAX, we realised that the countless images of groomed celebs that we see everyday have given us somewhat unrealistic expectations about travelling. You see, despite what people like Victoria Beckham and Kate Middleton would have us believe, strolling through the arrivals gate after hours in the air, with glowing skin and shiny hair is no mean feat. So, are they just lucky? Well yes, but they've also picked up a few tips from years of first class travel. As the rest of us mere mortals prepare for holidays season, we thought we'd let you in on a few tips and tricks of inflight beauty…
Preparation
Unless you're being whisked away on a surprise romantic escape (us neither), chances are you'll have a few weeks to prepare for your holiday. While this time is usually devoted to shorts shopping and frantic attempts to ditch that last pound, using it to prepare your skin is far more rewarding. Planes are incredibly dehydrating and, whether it's a long-haul flight or not, the lack of moisture in the air can have a drastic impact on your skin. Prevent a scaly situation in the weeks leading up to your trip by upping your exfoliation to get rid of dead cells, using a nourishing mask (we love Drink Up Intensive Overnight Mask, £20, by Origins) at least once a week and maybe even treating yourself to a facial.
Take off your makeup
It might sound like the one thing you shouldn't do if you're hoping to arrive somewhere looking your best, but taking off your makeup is a must when it comes to beauty in transit. We all know that we shouldn't sleep with makeup on to allow our skin to breathe, and the same concept applies to long-haul flights. During a long flight be sure to observe your usual nightly routine, applying extra moisturiser after removing your makeup (remember, the average hydration levels on a plane are only around 10%) and allowing skin to breathe, makeup-free, for the duration.
Hair
Just as you might ready your skin for a long flight with a few preparatory masks, you can prevent hair becoming dry by using a nourishing treatment like the Daily Spa Escape Moisture Shine Hair Treatment by Sanctuary (only £2 a sachet) before travelling. Another tip for arriving with salon-fresh locks is to wrap hair in a silk scarf during the flight - very Jackie O. Doing so will help avoid bed-head and flyaways caused by static seats. Finally, be sure to pack a miniature dry shampoo to add a little oomph and disguise any grease if you're used to washing your hair everyday.
Hand luggage essentials
Speaking of beautifying carry-ons, dry shampoo isn't the only miniature lifesaver. Unfortunately liquid limitations, hand luggage restrictions and the lack of your own personal makeup artist can make it difficult to bring everything you need on a flight, but pack these essentials and you should be fine:
Dry shampoo – see above
Moisturiser – make it extra hard-working like Clinique's Moisture Surge Intense Skin Fortifying Hydrator (£32)
Face wipes – No we weren't joking about makeup removal
BB Cream – If you're on a short-haul flight or simply can't face the flight attendant without slap BB Cream is a gentle and moisturising way to add a little colour
Misting spray (more on that below)
Stay hydrated
Ok, so hopefully it's sunk in by now that planes aren't the most hydrating places in the world (or the sky for that matter) which is why it's extra important to stay hydrated while you're on one. Keep your skin looking and feeling fresh by drinking plenty of water throughout the flight (don't be put off by bathroom trips, walking around is good for you) and packing a mini misting spray like Evian Facial Spray, which is made using fresh water from the Alps, comes in a travel-friendly 50ml can and is perfect for refreshing and fixing makeup - not that you'll be wearing any of course…