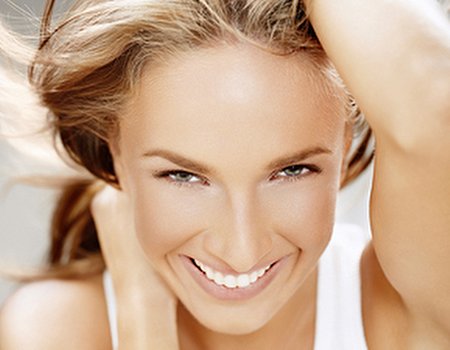 We're heading towards that time of year again. Not the festive season, it's still a bit early for that. Not party season either. We're talking about photo season. With its festive drinks, family get-togethers and picturesque landscapes (please snow) winter provides many an opportunity to say 'cheese'.
We love winter and we love cheese, but we don't always love pictures of ourselves. Sometimes no matter how flawless our make up or wide our smile, somewhere between our best pose and the camera flash something goes wrong. Well we're fed up of de-tagging photos. This photo season we'd like a few decent pictures of ourselves so we've done a bit of research and put together this definitive guide on how to smile for the camera…
Smile
When it comes to smiling you can practice all you want, but nothing beats a genuine smile. So what do you do when there's a camera in your face and you're not all that thrilled about it? Fake it. When we smile naturally our entire face moves, our nose creases and our eyes crinkle, and overall it's a pretty nice effect. When we force a smile, only our mouth moves and the effect just isn't the same. Make sure you look natural in front of the camera this party season by thinking about something that makes you happy (or even better, laugh) while you pose. A little bit of joy is a lot more effective than Photoshop. If all else fails, it might sound cheesy but try saying a word with a long 'ee' sound. Forming this sound opens the mouth wide, turning it up at the corners, creating a natural looking smile. 1, 2, 3… "cheeeese".
Teeth
Now you know the best way to bare those pearly whites better make sure they're looking their best. Before you rush off for a pre-party dental treatment or emergency bleaching session, there are a few DIY basics that can help. First and foremost (and without sounding too much like our mother): brush your teeth. Don't worry we're not going to give you a lesson in how to brush your teeth, just a gentle reminder that we should all brush our teeth twice a day for two minutes, which – when you're running late for work, or a party – can seem like a very long time. Flossing after a meal is equally important for dental hygiene even more so when it comes to averting food-in-teeth disaster. Finally, remember that sophisticated as it may be, red wine is to be avoided at any highly-photographed occasion and a slick of Vaseline can boost shine in a second – beauty queens swear by it.
Lips
Speaking of Vaseline, it's no use having beautiful teeth if your lips aren't looking their best. This time of year cold weather and wind can leave us with dry chapped lips. Not only can chapped lips be painful, they make wearing lipstick difficult and can ruin an other-wise promising profile picture. Make sure your pout is photo-ready with a moisturising and protective lip balm. We love Carmex Cherry Lip Balm.
Once you've got a good base to work with, you can use your lips to enhance your smile. Wearing a striking lipstick is a great way to glam up your smile, but go for a blue-based shade of red and your teeth will actually appear whiter. Ask an assistant at your favourite make up counter to point out any blue based shades or look out for our favourite Mac Lipstick in Ruby Woo. Apply a slick of Lipcote Lipstick Sealer to hold it in place then get ready for your close up.