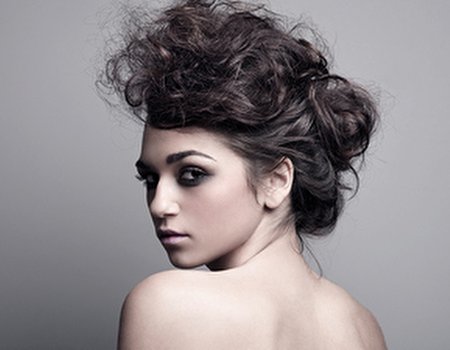 We've all heard (and been victim to) the famous phrase 'the camera adds ten pounds'. What you don't hear so often is that the camera can shed a few pounds too. Just ask the A-listers. All those skinny models and actresses aren't that flawless and fabulous, they simply know how to pose – well, that's what we tell ourselves anyway.
A good pose can trim waists, elongate thighs and turn cheeks into cheek bones. So just in time for one of the most glamorous and photographed events of the year we've put together this list of the top five tips to getting your best angle.
Chin up
It's safe to say most of us have de-tagged the odd photo citing 'fat-face' or 'double chin' as the reason. Pulling your chin into your body is a natural defence when faced with an unwanted camera, but it can create a jowl effect. Avoid future chin-cidents by raising your chin for the camera, making you look confident and giving you a jaw-line to rival Kate Moss.
Go for a birds-eye view
Avoid photos taken from below which can distort angles, cast unflattering lights and even result in the dreaded 'up-the-nose' shot. This one depends on your photographer's preferences, but a simple 'Please don't shoot me from that angle' usually does the trick. If all else fails try the diva's favourite hand-block on the lens, or alternatively make friends with lots of tall people...
Posture
So you didn't spend your childhood at finishing school, walking in a straight line and balancing books on your head. It's not too late to improve your posture with a few red carpet tricks. Make like Angelina Jolie and cross one leg in front of the other to create the illusion of length while rotating the upper body towards the camera to cinch in the waist. Make sure arms are held away from the body and keep shoulders back to, ahem, emphasise the bust.
Look away
Rather than fixing a smile and staring head on at the camera willing it to flash, try turning away from the lens then looking back and smiling just as the photograph is being taken. Cheesy, yes, but this trick is a favourite among models and photographers, and does help to create a more natural smile. Unless of course you're Victoria Beckham in which case smiling is so last season.
Last min cheats
If you wake up on photo day feeling far from your best, there are a few last minute cheats to get you photo-ready in a flash. 'Hold-in' underwear like Spanx (a red carpet favourite) is great for disguising a big lunch, while a spray tan leaves limbs looking slim and radiant in an instant. If that doesn't cut it, don't forget we live in the age of technology so if in doubt Photoshop it out - it's like that double chin never happened.