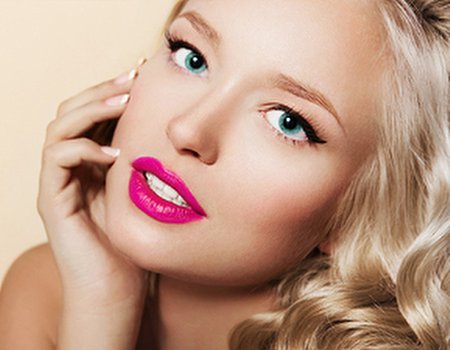 Here at Wahanda we hate nothing more than wasting time. Actually there is one thing we hate more: not looking our best. Imagine then, how much we hate it when we spend time making ourselves look pretty then catch sight of ourselves an hour or two later only to find that our make up has worn away, our hair has fallen flat and all that effort was for nothing.
Surely in this wonderful day and age there's some magic tool we can use to to make that freshly made up look last throughout the day or the duration of a party? This is usually the part where we tell you about a magic wand we've discovered that does just that.... Well sorry to disappoint, but there's no such thing. What we have done, however, is compile a list of our favourite long-lasting products and tricks to keep you from turning into a pumpkin at midnight.
Primer
Primer is a bit like Marmite, except instead of either loving or hating it we either swear by it or haven't really tried it. Designed to even out any complexion imperfections, a good primer will also provide a good base for foundation that will help it stay put. Primer isn't a make up bag staple for everyone but here at Wahanda we swear by it and we love how nourishing Nivea express hydration primer is.
Fixing spray
If it's magic you're after, Clarins Fix' Make-Up is as close as you'll get. Use this spray after applying your make up to set your look and keep it looking fresh for hours. This refreshing mist hydrates the skin, brightens the complexion and absorbs excess shine as well as keeping make up firmly in its place. Told you it was magic.
Lip pencil
Many women today find the idea of lip pencil or lip liner a bit old fashioned. While this is true of that heavily out-lined look loved by 1980s pop stars and the cast of Baywatch, a bit of lip pencil in a shade to match your lipstick can actually do wonders to prolong its staying power. This line will not only prevent bleeding and smudging, but will stay put when eating, drinking and talking has caused other parts of the lip to fade. Not speaking, eating or drinking is, of course, another option but much less fun.
Powder
For centuries powdering your nose has been an easy way to set make up and perfect the complexion – as well as a ladylike way of saying you're off to the loo. If you're using a primer or a fixing spray you might not need the powder, but this method is tried, tested and a favourite among women across the world – particularly if you're prone to oil or shine. If it's a flawless finish you're after it doesn't get better than Laura Mercier Loose Setting Powder. This powder contains a unique light-reflecting ingredient to disguise fine lines and imperfections as well as the finest French "cashmere" talc. Ooh la la.
Eye-liner
Thanks to this year's smokey eye trend smudged eyeliner has never been hotter. Unfortunately, when it smudges so much it fades away the effect is not so glamorous. Make your eyeliner last longer by applying a neat layer of black or brown eyeshadow along the top. Just like a face powder helps set foundation, the powder eyeshadow will blot the eyeliner and stop it slipping away leaving you with a lasting effect that's, ahem, pretty easy on the eye.