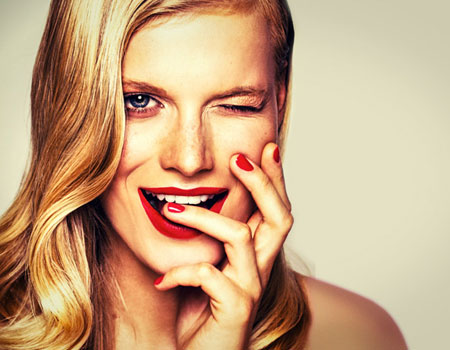 We've all been there. You spend (what feels like) hours painstakingly painting on coat after coat of base and colour, trying desperately to keep a safe distance from the cuticle, then – within minutes of your final coat – you smudge and have to start all over again. Painting your nails can be a pain, which is why, when the fruits of your labour begin chipping away within days, it can be easy to get a little… emotional. Just us? To save you similar turmoil here are our seven tips to keep polish perfect for seven days…
1. Be ready
Make sure that when you sit down to paint your nails it's the last thing you need to do for the day. It can take up to 12 hours for nail polish to fully set, so if there's a pan to scrub, a bin to be taken out, or your hair needs washing, do it before you paint your nails. It's also worth investing in a pair of washing-up-proof Marigolds - practical and glamorous.
2. Create a sturdy foundation
It might sound a little counter-productive, but before applying your base coat be sure to give (clean) nails a good wipe with some nail polish remover. This isn't to get rid of old colour (you should do this beforehand), but to wipe away your nail's natural oil, which can stop polish adhering to the surface.
3. Give it time
Between every layer of base, colour and topcoat, make sure you allow adequate time to dry. Nails should feel hard to the touch before you get to work on the next coat, so try to leave about ten minutes in-between to create more durable layers. Also, any dents or marks that you make in polish that isn't quite set can make it easier to chip later on.
4. Seal the deal
When you learn to paint your own nails you think it's simply a case of covering the surface in colour and trying not to get it all over your skin. Go to a professional, however, and you'll notice that there's another surface they pay attention to – the top edge of your nail, aka the bit you file. By carefully applying a layer of polish (and top coat) to the outer edge, you can, in effect, 'seal' the nail and prevent chipping from the top.
5. Keep cool
If you've ever tried to ice a cake on a warm day you will know that heat can play havoc with the 'setting' process. It's the same with nails, so for the 12 or so hours it takes for your polish to fully harden, avoid washing your hands in hot water, blow-drying hair, taking a bath, going for a sauna and even blowing on your nails. It's almost instinctive to some of us to try and speed up the drying process by blowing on our fingertips, but the warmth of your breath can actually interfere with the setting process, so resist the urge.
6. Keep it up
Reapplying a topcoat every other day not only keeps nails looking glossy, it strengthens the outer layer of polish (making it harder to chip) and helps to fill in any weak spots that are beginning to form. Nail artist Manami Shima of Kitsune Nails recommended we try Seche Vite Dry Fast Top Coat (£9, Boots) and we've been fans ever since.
7. Grease is the word
Actually, oil is. Applying oil to your nails every day will help get moisture to your nail bed which – despite what we told you in step two – is hugely important for nail health, and helps prevent breakage and peeling. A good nail oil, like Ciaté's Love Me Oil (£11, ciate.co.uk), will penetrate the layers of polish and reach deep into the nails, keeping them strong, healthy and chip-free.