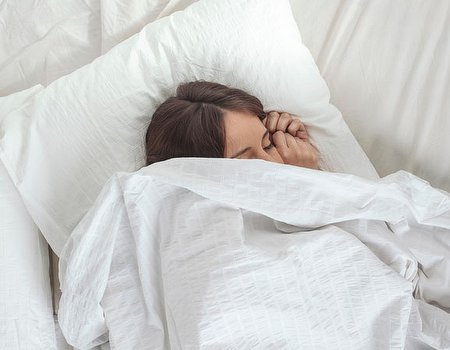 It's getting to that time of year when, no matter how much sleep you've had, getting out of bed in the morning feels like the worst thing in the world. It might be a cold bathroom putting you off your shower, wet weather, or the fact that it still looks like night-time outside, but science also proves that the change in daylight hours can disrupt our sleep and waking cycles, making it harder to get a good night's rest. That's why it's especially important to make the most of your time in bed. Whether you're getting 6, 8 or 10 hours (lucky) here are some helpers to make the most of them…
Winding down
The clocks haven't gone back yet, but the evenings are already beginning to creep in, and shorter daylight hours can make it harder to fit everything you want into a day. When the sun sets earlier your body wants to go to bed earlier which – if you have plans to get ahead on work, exercise, or cleaning the house – can lead to stressful evenings. Not good for sleep quality. No matter how much you feel you need to do before bed, make sure you allow some time to wind down.
Meditation Just ten minutes of quiet time before bed can help the mind switch off and the body relax. We're huge fans of the Headspace app here, which offers a free ten-day course of ten minute meditations, designed to teach you how to incorporate mindfulness into your daily routine – something we can all benefit from.
Take a bath A warm bath before bed is a wonderful way to unwind, so treat yourself whenever you can and soak your stresses away by adding something aromatic. Lush's Dreamtime bath melt blends ginger, chamomile blue and lavender oils to calm the mind, ease muscles and induce sleep. It also leaves your bathroom smelling like a spa and your skin feeling soft and soothed.
Drifting off
So, once you've managed to wind down and forget about your day, what's to stop you from remembering it all while you're waiting to fall asleep, sitting up with a start and debating whether or not to go check on that thing that was worrying you earlier?
Switch off lights, screens and your mind Make sure your room is dark while you're getting ready for bed and try to stop yourself from looking at any screens (be they television, laptop, or smart phone) for an hour before you settle down. The light emitted by these screens actually suppresses melatonin production, (making it harder for your brain to accept that it's bedtime) and chances are, whatever you're doing on said screen will be stimulating the mind, rather than relaxing it. 
Champneys pillow mist Forget counting sheep, we've found the most effective (not to mention relaxing and luxurious) way to fall asleep is with a few spritzes of pillow mist. The Relaxing Pillow Mist by our spa friends at Champneys uses a calming blend of lavender and patchouli essential oils and is used by therapists in their spas. L'Occitane also offer a blend of essential oils, including bergamot, lavender, mandarin, sweet orange and geranium. Spray it around your room to create a calming atmosphere that promotes relaxation, well-being and – best of all – sleep.
Wake up fresh
A good night's sleep can do wonders for the complexion but, good news for anyone not catching enough Z's, so can a good night cream. Invest in a good moisturiser that will get to work renewing skin while you're sleeping.
Overnight refresher While some see moisturising as a bit of a chore, it can actually be a great way to relax. Especially when you're using something as special as Neal's Yard Beauty Sleep Body Butter. This luxurious cream combines essential oils with organic butters and the effect is calming for the mind and nourishing for the skin. Apply before bed and your body will absorb the benefits all night long. Bonus, you wake up smelling (and feeling) like you've had an aromatherapy treatment.
Beauty sleep Renight Recover Cream by [comfort zone] combines goji berries (which any super foodies out there will know are packed full of anti-ageing benefits) with hyaluronic acid and lycopene (which enhances the process). Our favourite thing about this moisturiser, however, is its uber-light, almost mousse like texture. It's a pleasure to apply and you only need a little to wake up feeling, and looking, fresh. Their Tranquility Oil is another tried and tested favourite among the Wahanda editorial team and a nourishing, aromatic addition to a relaxing pre-bed bath.
Sweet dreams everyone!