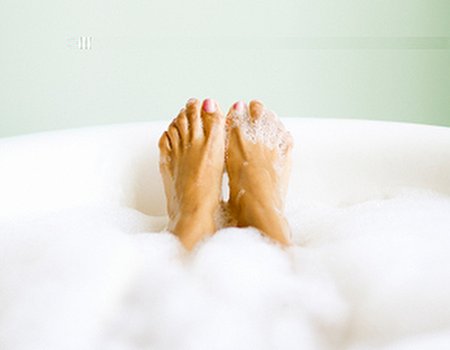 Picture the scene: it's a grey May morning, you're trying to decide what to wear in this dull but balmy weather when lo and behold, the sun appears. Bursting through the clouds like a flashing neon sign saying "wear that new midi skirt". Delighted you gather various summer accessories (sun cream of course) and prepare to head outside and catch some rays when suddenly you catch sight of your dry, chipped, winter-worn feet.
Shaving your legs might only take a minute, but those babies need some serious TLC before you can even contemplate a pair of flip-flops. With no time to head to a professional (who knows how long the sun will stick around) there's only one thing for it: a DIY pedicure. Fortunately, we've planned ahead this year and spoken to beauty expert Lucy Patterson from Milk to find out everything we need to know about achieving and maintain gorgeous summer feet. Best foot forward now…
How can we protect our heels from becoming too hard during flip-flop season?
Hard skin quickly builds up from wearing flip-flops in summer months. Winning the battle against hard skin is all about little and often. As the temperature warms up, book in for a good pedicure. We recommend a gel pedicure which includes a callus peel treatment. This treatment works away hard skin using a peel solution designed especially for feet. After your pedicure it's all about maintenance. Try using a moisturiser that contains AHAs to gently exfoliate skin while hydrating and applying a rich moisturiser nightly under cotton socks. If you find that you are fighting a losing battle, book in for another pedicure to give your home routine an extra boost.
What is the safest and most effective way to remove dead skin from the feet?
A traditional foot file is a great, easy and cost effective way to remove hard skin. Soaking before working with a foot file is recommended as it helps you work away the dead skin. But remember skin is softer after soaking and can be removed more easily, so go slowly. Try filing your feet once a week after showering and leave the metal rasps and blades to professionals.
Any tips on how to polish neatly?
Use a good base coat to create a smooth surface. Shake the bottle well, load the brush and place the brush in the middle of the nail slightly above the cuticle. Push the brush back towards the cuticle then sweep forward to the tip of the nail. Repeat on the left and right sides of the nail and tidy any smudges with an orange stick tipped with cotton wool soaked in nail polish remover.
How can we make our polish last through sun, sea, sand and sandals?
It's worth investing in a gel pedicure. You don't have to worry about drying time after application and the polish lasts weeks. They really are excellent value given the weeks of wear.
Milk Beauty's guide to the ultimate at home pedi:
Plan your pedicure after a relaxing bath that way you'll save time by skipping a separate foot soak.
Dry your feet and place on a warm towel and, for added luxury, wrap each foot in a seperate towel to keep snug when you're not working on it.
Remove any residual varnish with an acetone free varnish remover which won't be as drying on your nails. At Milk Beauty we recommend using an orange stick wrapped in varnish remover soaked cotton wool to remove any hard to reach varnish.
Cut toe nails straight across using either straight scissors (not curved) or clippers. Avoid cutting into the sides of the nails as this can cause infection and ingrowing nails.
File your nails using the rough side of an emery board in one direction only.
Good cuticles make for a great pedicure so invest some time in neatening them. Apply cuticle remover and gently push back using an orange stick.
Use a foot file to work away hard skin. Do this gently; it might take a few home pedis to banish winter build up.
Wipe over nails with varnish remover and allow to dry.
A Milk tip is to take a large tissue, twist it from diagonal corners and thread it over and under your toes to separate them.
Paint on a base coat to even out and indentations in your nails. We love OPI Ridge Filler.
Apply 2 coats of varnish and finish with a topcoat.
Leave to dry for at least 30 minutes to avoid smudging all that hard work - you wouldn't want to put your foot in it now would you…
Reapply the top coat every four days to prevent chipping.
For more about mobile beauty specialists Milk see www.milkbeauty.co.uk.