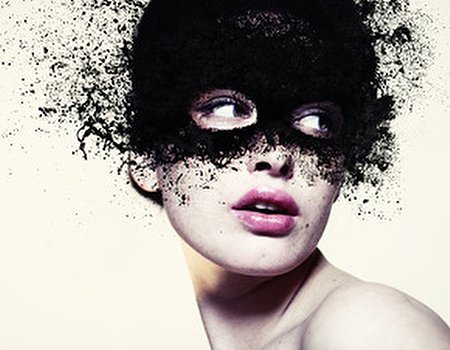 Ever arrived at a fancy dress party only to find you're the only one who hasn't made an effort, or perhaps worse, the only one who has? You look around a room full of slinky dresses and the odd pair of devil horns and feel somewhat out of place in your full on banana costume. If only you'd planned ahead...
As the 31st October approaches bars, parties and offices around the world are demanding we all don some kind of scary costume. Whether you're planning to stand out or blend in this Halloween we thought we'd make dressing up a bit easier with a few simple makeup tips. From zombie bites to nail art, we've got it all. Now all you need to do is think of a costume.
Go all out
Thanks to sites like YouTube and a few ghoulish bloggers, convincing Halloween make up has never been so easy. A few years ago we wouldn't have had a clue how to make a prosthetic wound on our face but now the web is full of how-to videos detailing how to transform yourself into all manner of terrifying creations – this truly is the enlightened age. Here at Wahanda we're big fans of fashion and beauty blogger Michelle Phan and this year we've been taking notes from her Halloween makeup tutorials. Whether you're going for seductive vampire or zombie Barbie she's got professional looking makeup covered and makes it look as easy as pumpkin pie.
Easy classics
Before the age of technology, Halloween costumes had to be simple – which is great news for anyone looking for a last minute, low budget costume. You can't go wrong with one of these easy classics:
The cat – If you're already a fan of winged eyeliner this one's for you. Take a black liquid eyeliner and starting in the inner corner of your eye, draw a line along the upper lid finishing with a flick at the outer corner – the more elaborate the better. Take a bright pink lipstick and draw an upside triangle on the end of your nose and finish with a few eye liner whiskers on either side. Miaow.
Wicked witch – Not for the faint-hearted, the wicked witch is for anyone who wants a stand-out costume that's ready in minutes. Cover your face, neck and any other exposed body parts in a thick layer of bright green face paint. Paint lips with a black lipstick and nails with a black nail polish. Simple and scary – hey, the wicked witch was never supposed to be pretty.
Vampire –Vampires have never been so popular and there's bound to be a few lurking about this Halloween. Join the fang gang by creating a nice ghostly pallor with a layer of pale powder (or talc) on your face. Line eyes with a red eyeliner (lipliner works just as well) and apply a rusty, brown eye shadow to lids - paying particularly attention to the sockets for a hollow effect. Paint lips with a dark red lipstick, and complete the look with a set of fangs and a fake blood drip at the corner of your mouth. Fangtastic.
Nail art
This year you've decided you don't have the time (or the costume) to dress up but you'd still like to show a touch of Halloween spirit. How about a set of terrifying talons, courtesy of a little spooky nail art?
Vintage ghost: Keep it chic this Halloween and opt for white nails à la Chanel S/S 2013. Then take a black nail art pen and draw eyes and a big ghostly mouth. Stylish yet spooky.
Instant claws: Bring out your inner werewolf this year by painting nails a dark shade of brown or grey then using a flesh coloured shade to paint inverted triangles on each top corner of the nail. Check out www.beautyriot.com for inspiration.
Dripping blood: Tap into this season's gothic trend with a set of Prabal Gurung inspired bloody nails. Paint nails with a clear polish then once dry either use a red nail art pen or a cocktail stick dripped in red polish to decorate the tip of the nail with drops of blood.