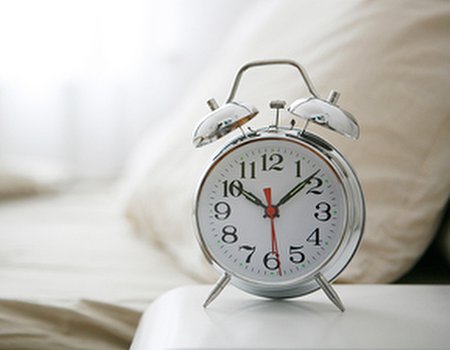 Some days we'd do pretty much anything for a bit longer in bed. Even if it means skipping our morning cuppa or doing our makeup on the train, those extra 15 minutes of snoozing are worth it. So what would you give for an extra hour? Well, it doesn't matter because we're all getting one anyway - on the 28th of this month the clocks go back meaning we all get one whole hour of extra sleep.
Great news, eh? Well yes, except that with the clocks shifting like this we're looking at shorter days and longer nights for the next few months. When daylight savings began this wasn't an issue, as people tended to be less active in the winter months. These days that's not really an option. Come winter or summer many of us find ourselves complaining that there aren't enough hours in the day, so what do we do when the days get even shorter? Take a look at our guide on how to cope with shorter days without feeling the effects.
Light
One of the most important factors to consider when it comes to losing daylight is vitamin D. Vitamin D is important for our bones, skin, and energy levels and we get most of it through sunlight, so with less daylight to absorb we all need to be careful this winter. The best way to make sure you're getting enough vitamin D this season is by eating oily fish at least once a week and taking a daily supplement. We love Inner Me's Vitamin D for Burly Bones. They're great value for money and do exactly what it says on the very pretty packaging.
Don't hibernate
The human body takes its sleeping cues from two things: how active we have been and how light or dark our surroundings are. This is why we often feel the urge to sleep more during winter. Combine this with an urge to eat more – an animal instinct designed to keep us warm - and you're one step away from full on hibernation. Great news if you're a bear, but us humans aren't programmed to hibernate so even though we feel the urge to eat and sleep more, indulging it will only make us feel worse. Fight the fatigue and make sure you get the most out of your day by sticking to your regular sleeping patterns and eating a healthy balanced diet – although the odd mince pie won't hurt.
Exercise
If you find yourself unable to ignore the urge to 'stock up' on food for the winter and are worried about gaining weight, don't panic. Just make sure you make healthy food choices and exercise regularly. For many of us, working nine to five and beyond means fitting in exercise in the early morning or evening, but with the clocks changing and everything getting that little bit darker this isn't so easy in winter. Why not move your exercise regime indoors this season and sign up for a class? Try a Strictly inspired dance class or for something that will really warm you up try Bikram yoga - ten minutes in and you'll have forgotten all about winter.
Immunity
Fatigue, lack of exercise, not enough vitamin D - all these things can add up and have a negative effect on our immunity. Factor in the extra hours of central heating (which reduces our defences, drying out protective mucus in the nasal passage) these shorter, darker days necessitate and it's no wonder we get so many coughs and colds this time of year. Boost your immune system by eating fresh, healthy food (get inspired with our immune boosting recipes) and taking supplements like vitamin C – great for a cold - and Echinacea, which stimulates the body's immune system and actually wards off infections.
Save time
The best way to cope with losing part of your day? Packing as much into the remaining hours as possible. We know, time saving is easier said than done but it's something we all benefit from which is why we at Wahanda have made it so easy for you lot to book beauty treatments in a flash. Whatever the treatment, simply search for a venue nearby, pick a time that suits you and book there and then without any fiddling about or even having to speak to anyone. You're welcome.