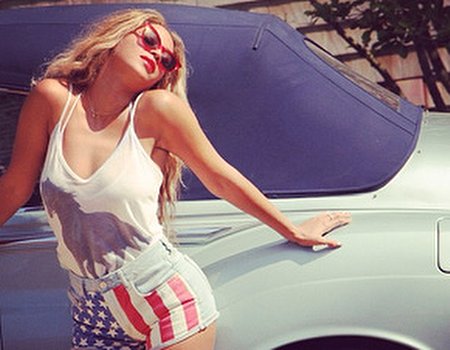 It's been a newsworthy week of celebrity heirs and celebrity hair. In case you missed it, earlier this week Beyoncé - while live on stage in Montreal - got her famous, flowing mane caught in a fan. Shocked (and slightly amused) by the images, and blown away by Bey's professionalism as she continued belting out 'Halo' while her security team worked to de-tangle her, we couldn't help but eye the electric fans in our office with a new caution. We wouldn't be without them in this heat, but that means that we too run the risk of becoming tangled, and so without a security team of our own to help us out we've formulated a plan. This summer when the heat threatens to ruin your look, just think, 'what would Beyoncé do?'
Pedicure pandemonium
Public transport in the summer; it gets hotter and, somehow, even more crowded, which can spell disaster for flip flop wearers. What do you do when an off-balance fellow passenger lands on your foot and ruins your pedicure? Well there are a number of options. You could carry a bottle of polish with you at all times ready for emergency touch-ups. You could cover a chipped nail with a (less than chic, but handy) plaster. Or, the only option for a sandal-wearing diva, get yourself a pedi pronto.
Shaving shame
In a bid to get out in the sun you recklessly dry-shaved your legs (or other 'hair-ea'), pressing too hard on your razor in the excitement and not bothering to moisturise afterwards. Now you've developed a nasty shaving rash. You have two options. You could cover up your pins with a pair of jeans (but do you really think Beyoncé would be caught wearing jeans when she could be wearing hotpants?). Or, you could invest in a soothing aloe vera gel and, for bonus diva points, employ someone to apply it for you.
Feeling the burn
In your rush to get outside you also forgot to apply sun cream meaning you are now somewhat burned and soon to be the owner of some embarrassing tan lines. The solution? Don't get sunburned. These days we're spoiled for choice when it comes to sun cream that there's really no excuse. Take a look at our guide to sun cream for everyone from water babies to organic souls and remember, always use protection.
Hair raising humidity
Forget electronic fans, when summer comes around humidity is the biggest hair hazard around leaving fine hair looking limp and frizz-prone hair looking, well, frizzy. When humidity rears it's ugly head, you could cover your own with a silky summer scarf that's very D&G spring-summer 2013 (and very A-list) or head to your nearest blow dry bar and get a professional to help smooth out the situation.
Makeup melt down
It's an age old question (sort of) what do you do about make up in the heat? Many of us don't feel we can be without a layer of slap, but hot, sticky conditions can lead to smudging, running and in extreme cases, dripping. Don't panic. Get yourself to your nearest makeup counter for an emergency glam-over as most assistants will be happy to test out some products they think will work for you. Alternatively, you could hire your own makeup artist to follow you around and tell you how fabulous you are. The choice is yours.
Image from instagram.com/beyonce