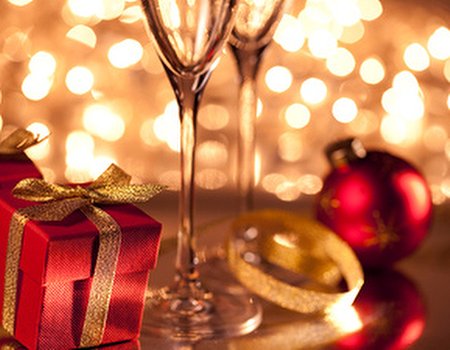 Christmas is coming which means the time is upon us to eat, drink healthy cocktails and be merry. Ok we've edited the second one a little, but from our experience of festive season things are about to get very indulgent and we're trying to keep things healthy where we can.
Egg-nog might be traditional but at 350-400 calories per serving it might be time to think of a new recipe for Christmas cheer. Well while everyone else has been hanging decorations and making a start on their Christmas shopping, here at Wahanda we've been getting into the festive spirit (get it?) by thinking up healthy substitutions we can make to our favourite Christmas cocktails to make them a little less indulgent. Take a look at our guide to healthy Christmas cocktail swaps and just remember – fewer calories does not mean you can drink twice as much.
Mulled wine
Recipes for this Christmas classic range from decidedly decadent to just plain delicious. Based on the classic German winter drink Glühwein, Mulled wine usually involves heating red wine, water, sugar, spices and a spirit like rum or Cointreau. A few healthy substitutions to consider when making this drink are using honey rather than sugar, using less wine and compensating with apple or orange juice and skipping the extra spirits. Every batch of mulled wine is different so if you do decide to make a couple of healthy changes chances are your guests won't even notice. Mull it over at least, eh?
The Grinch
Despite being based on the Dr Seuss character famous for spoiling Christmas, this bright green drink won't ruin anyone's day. As festive cocktails go it's already one of the healthier options containing only Midori melon liqueur, lemon juice, sugar syrup and finished off with a Maraschino cherry (said to represent the Grinch's changed heart). But if you fancy making a couple of healthy swaps try substituting sugar syrup for agave nectar (a natural sweetener from the Mexican Agave plant) and the Maraschino cherry for a raspberry, strawberry – or any other red fruit not glazed in sugar. So abstemious the Grinch himself would be proud.
Egg-nog
Recipes for this American Christmas classic vary considerably but most of the versions you will come across will include eggs, milk and cream. Great for pancakes, but a little excessive for a drink perhaps. This year try missing up a batch using skimmed milk, single cream and egg whites only. The result will be light and frothy rather than creamy but remember the nutmeg, cinnamon and vanilla (you can be as liberal as you like with these) and it'll keep that sweet, festive spice. Cheers.
Candy Cane
Another American favourite, a Candy Cane is chocolatey, minty and down-right delicious. Candy Canes generally include a flavoured spirit like berry vodka or vanilla rum, chocolate liqueur, peppermint schnapps and a little soda water. As you can probably tell, three of these key ingredients can be pretty high calorie. To save calories, firstly stick to a vodka base then decide which of the other ingredients you'd rather substitute – not the soda water. Try substituing the chocolate liqueur for a dusting of cocoa over the finished drink, or if peppermint schnapps isn't your thing leave it out and add a couple of drops of peppermint essence to the mix. Bottoms up.