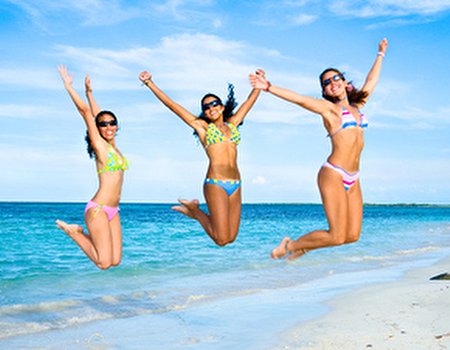 The sun is shining, the weekend's getting closer and it's time to start looking for your nearest watering hole to cool off, catch some rays and show off your new bikini. There's just one thing stopping us… Actually that's not true, there are about five things stopping us, all of them relating to being not quite bikini-ready. Orange peel skin, unwanted hair, and stubborn lumps and bumps - we could write a book on the various reasons we're reluctant to get into a bikini. But we haven't, we've written a blog instead loaded with tips and treatments to overcome these woes and wobbles and unleash our inner beach goddesses...
Cellulite
Contary to what Photoshop might want you to believe, most of us women suffer from cellulite. Cellulite, if you don't know (we'll assume you're one of the lucky ones) refers to dimpled or lumpy skin caused by underlying fat deposits. It is not, however, reserved for people with more fat. There are many theories as to what causes it including genetics, hormones and lifestyle. Fortunately there are a few treatments that can help including massage(particularly the lymphatic drainage kind) and mesotherapy (which uses tiny painless needles to penetrate the skin). Take a look at our cellulite treatments for more options.
Body hair
The number one unwanted summer accessory always has - and always will be - excess body hair. Forgetting to wax or shave over the years has led us to miss out on pool parties, bare legs and putting our hands in the air like we just don't care too many times. This year we're determined not to let a bit of fuzz ruin our summer fun, we just need to choose the right hair removal method. Will it be the painful yet effective waxing, or it's lesser know cousin, sugaring? Or maybe a course of long-lasting IPL? Put down that razor, we've got some serious thinking to do.
Feet
After months and months in closed-toe shoes there's a good chance the recent heat-wave has forced you into flip flops before you were ready. Putting a lick of paint on your toes might not take long but nails are just the tip of this iceberg, as dry cracked skin is hard to cover up – and burying your feet in the sand will only aggravate it. A pedicure is always a good option but it's worth investing in a decent foot file for any sandal-related emergencies. We're a bit in love with Soap and Glory's Foot Buffer, which comes with three different filing heads to reach every nook and cranny, available from boots.com.
Beat the bloat
Left it a little late to hit the gym? There are other ways to lose an inch or two this summer. Body wraps, for example are a great 'quick fix' when you know you want to look your best. By cocooning your body in a mixture of herbs, essential oils and warm cloths, body wraps draw out toxins and help you to shed excess fluid, relieving any bloating and allowing you to (temporarily) lose an inch or two. Wraps also condition the skin and improve circulation, making them another great option for cellulite.
Dry skin
If you are baring your skin this summer make sure it's at its most sparkling by keeping hydrated inside and out. Most of us know that we're supposed to be drinking around two litres of water a day, but whether you normally take heed or not, drinking up is particularly important at this time of year. It's also more important than ever to moisturise. We know that when the sun is shining no one wants to be cooped up slathering on lotion, that's why we've fallen head over heels for Nivea's in shower moisturiser. Apply while you're in the shower, rinse off and dry as normal. Then pop on a pair of hot-pants (if you so wish) and you're good to go.