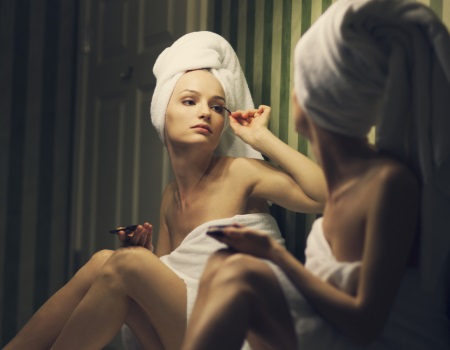 It's the final countdown…almost. Christmas has passed and the next (and last) event left in the 2013 social calendar is New Year's Eve. One of the most anticipated nights of the year, NYE is always exciting. It's also – we've learned from previous years of searching for somewhere to go and something to wear – rather stressful. This year we thought we'd save ourselves (and you lot) the pre-New-Year's-party stress with a helpful countdown of our own. Here are five steps you can take this weekend to get ahead on New Year's party prep and save time on the day. Five, four, three…
Hair
If you struggle to think of what to do with your hair before a party now is the time to talk to someone about it. Ask your hairdresser about the styles that will best suit your face shape and maybe try something a bit different while you still have a few days to get used to it. If you'd rather wait for the New Year to go for a whole new look (new year new you and all that) book yourself in for a trim or conditioning treatment to breathe a bit of life into your hair in the meantime.
Nails
Nothing completes a party ensemble like a flawless manicure, and nothing ruins one like a last-minute chip. Avoid polish panic by treating yourself to a long-lasting manicure that will see you through to the New Year. Think your party dress could do with some added sparkle? Wave a fond farewell to 2013 with one of the year's biggest beauty trends (set to continue into 2014): nail art. Customize your nails to complement your dress and avoid any of that 'oh dear we're wearing the same shade embarrassment'. Just us?
Face
Job interviews, weddings and the biggest party of the year. Why is it that reason spots have a tendency to appear just when you really don't want them? Avoid hours of pre-party concealing by treating yourself to a facial a few days before the party. While ridding skin of toxins facials have been known to bring on the occasional breakout so book yourself in this weekend and skin will have a few days to adjust leaving you glowing and gorgeous in time for the 31st.
Eyes
Is tweezing the bane of your beauty regime? Better not leave it till the evening of the party then. Instead, take ten minutes out of this weekend and book an appointment to have your brows threaded, waxed or - for that 'Delavingne' look – HD'd. If you're looking to add some New Year's oomph to your everyday look ask your therapist about eyelash treatments while you're at it. Extensions and Semi Permanent Mascara are quick treatments with show-stopping results that leave you fluttering for weeks.
Makeup
If you find it hard to decide on a look under pressure and end up reverting to the same look every party then regretting your lack of inspiration when you see other guests, use this weekend to think about your outfit and how you plan to wear makeup. Visit a few counters and talk to a makeup assistant about which colours suit you and how to wear them then treat yourself to a new product – well it is Christmas.