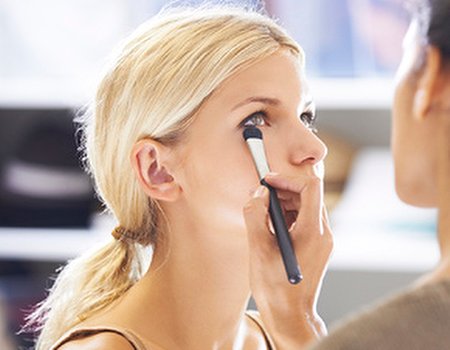 This week sees the start of one of the most exciting events of the season, Fashion Month. With New York Fashion Week kicking off on Thursday our first stop is the Big Apple. Whether you're hopping from FROW to FROW in over-the-knee boots, or keeping up with the action from the comfort of your laptop, as the world turns its attention to fashion and beauty, it doesn't hurt to look the part. While we've still got a few days until it all gets going it's time to get prepared…
Hair
Nothing says front-row like glossy, healthy hair, and nothing says A-list like a big, bouncy blow dry. It's classic, photogenic and, done-right, will see you through the day with volume and shine. Tame fly-aways and add some show-stopping oomph to your 'do by squeezing a professional blow dry between shows. For an edgier 'London' look ask your hairdresser for a choppy bob above the shoulder aka 'the Karlie' named after supermodel, Victoria's Secret Angel and all-round Fashion Week darling Karlie Kloss.
Face
Whether you've been up all night at the Mulberry after party or are simply feeling the effects of working 9-5 five days a week (why can't every week begin with a bank holiday?) your face is the first place it'll show. Restore your glow and get ready for your close-up with the A-list favourite CACI facial. The electronic beauty treatment uses tiny electrical impulses to stimulate and tone the muscles, ironing out creases and tightening skin to leave it looking plumped and awake. Front row regulars J-lo, Gwyneth Paltrow and Lisa Snowden are all said to be fans, if it's good enough for them it's good enough for us.
Makeup
When we're not drooling over clothes we can't afford during Fashion Month we can usually be found making notes on makeup. According to the autumn/winter 2013 shows, makeup this season will continue the year's grungy tendency so think wine-stained lips and smudgy, smoky eyes – preferably in shades of burnt orange and purple. For a more classic look the feline eye is also set to have a huge moment as well as the ever-popular red lip.
Skin
When we heard that Miranda Kerr puts her supermodel looks down to daily body brushing (as well as the odd workout and some enviable genes we imagine) we swore to begin buffing every day. Once we started, however, we found that Miranda's regime of dutifully scrubbing head to toe with a dry brush every morning was making us late for work (we're not all supermodels you know). Instead, we discovered that letting a professional do it for us every now and then could be just as satisfying (and a lot more enjoyable). How A-list are we?
Nails
Ladies, put down your pastels and step away from the glitter pot. The time has come to wave goodbye to summer with a set of dusky autumn/winter nails. This season nails are getting darker, and black is very much the new black. Nail-artists among you can have fun playing with different ways to wear the shade like monochrome manis and gothic designs. But if black nails aren't your thing go for the other hot colour of the season, the slightly softer, but equally dramatic, ox-blood. We're getting shivers just thinking about it.