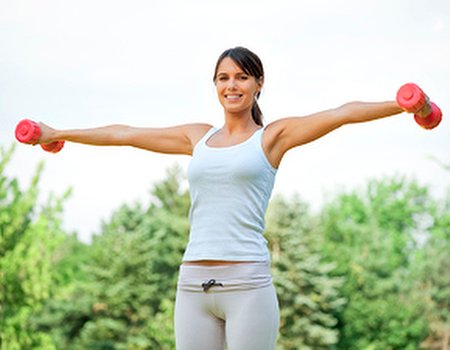 Fitness and weight are something of an obsession in society today. Most of us admit we wouldn't mind losing a few pounds, toning up a couple of areas or improving our overall fitness for health purposes and we're surrounded by people telling us the fastest and easiest ways to do just that. With an entire industry offering us different advice on how to get the body we've always dreamed of things can get a bit confusing. How do we separate the fact from the fiction? The sales-pitch from the certainty? In other words, when it comes to fitness and weight loss, what actually works? Well here at Wahanda we're as interested as the rest of you so we thought we'd ask the advice of a few experts and find out once and for all the truth behind the myths…
Myth: I need to hit the gym to lose weight
Truth: Of course going to the gym can help you lose weight, however, according to Zana Morris of Educogym, we actually need no more than 15 minutes of high intensity exercise a day. These 15 minutes kick-start muscles causing the body to release 'growth hormone' which aids fat loss and causes your muscles to work to get rid of fat throughout the day - no matter what's on your itinerary.
Myth: Working out on an empty stomach burns more fat
Truth: Working out when you are deprived of nutrients (e.g. before breakfast) will force the body to tap into fat stores. However, Maik Wiedenbach, author of '101 Fitness Myths' says it is the wrong approach: "Working out on an empty stomach burns more muscle, which defeats the purpose of any fat-loss diet. I also believe that working out in a fasting state is sub-optimal, since the lack of nutrients will not allow for peak performance." So there.
Myth: It's good to eat straight after a workout
Truth: Morris warns that eating too quickly after a workout releases insulin which prevents your fat burning hormone from becoming active. She recommends waiting one hour before tucking into a well deserved, although healthy, snack.
Myth: If I focus on problem areas I'll get the body of my dreams
Truth: Unfortunately, it's a no. That's just not the way it works. When we work out our bodies draw on fat from different regions at different rates depending on our genetic makeup, making it impossible to pick and choose where we lose weight without surgery like liposuction. Sucks doesn't it?
Myth: To lose weight I should stick to 'low fat' foods
Truth:Be careful relying on low-fat substitute foods to lose weight. They may contain less fat or calories than your usual diet but they can still be high in sugar or just plain unsatisfying. Eating something labelled as 'diet' can also cause dieters to focus on what they are not allowed. Deborah Morgan, author of 'Cut the Crap',says: "All this does is create desire and eventually you will overeat on all the fattening foods you've deprived yourself of – on top of all the substitute foods you've also bought." Stick to foods you enjoy in moderation.
Myth: Cutting calories is the key to getting fit and losing weight
Truth: Not according to Zana Morris who sees this as the "biggest mistake" when it come to fitness and weight loss. Cutting calories will lead to you losing muscle as well as fat and given that a pound of muscle can burn 50-100 calories a day, this is the very tissue you don't want to lose. Burning calories is better for your health and waistline than simply cutting. When dieting don't go below 1,500 calories a day and use exercise to burn off extra.
Myth: Carbohydrates are the enemy
Truth: A 2003 study published in the New England Journal of Medicine revealed that dieters on the Atkins diet (a no carb diet) lost weight because they ate less overall, not because they ate fewer carbohydrates as many believed. We need carbs for energy which is especially important if you are working out. If you want to cut down try wholegrain and wholemeal carbohydrates like wholemeal bread and brown rice.
Myth: Drinking water makes you lose weight
Truth: Drinking water doesn't actually cause you to lose weight, but it does keep you hydrated which can help you snack less. We all know how important water is for our health and most of us have heard that we should be aiming to drink around 2 litres per day. Well for many of us that's easier said than done. How's this for an incentive: thirst can often be mistaken for hunger which leads to snacking, weight gain, more dehydration and then more snacking...you get the picture.
Myth: Nothing beats fresh fruit
Truth: Well yes fresh fruit is great for you. However, since most frozen fruit is picked and frozen at its freshest it retains more nutrients like vitamin C than the 'fresh' stuff which can lose these while making the journey to your local supermarket. Stock up on frozen fruits like berries as well as fresh fruit and use them in delicious, nutrient-packed, post work-out smoothies.