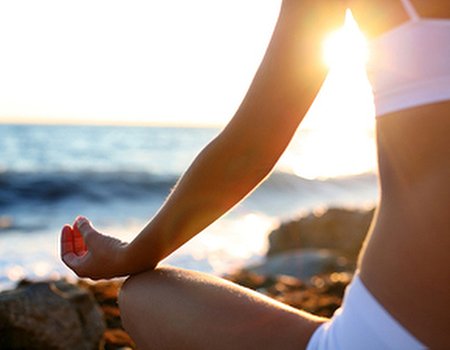 It's the end of summer, your tan lines are fading, your flip flops are starting to gather dust and that holiday you waited so long for is nothing but a distant memory. Well it's not over yet and since September is yoga month, we can't think of a better way to keep active, stress-free and, above all, warm.
Unfortunately it's not quite as easy as turning up at your local yoga centre and announcing 'I'd like some yoga please'. There are all kinds of weird and wonderful words associated with the different kinds of yoga (including, most recently, 'twerking yoga') that a beginner might find confusing or intimidating – and we haven't even got to the headstands yet. We've filtered them into to five favourites and then broken them down to help you find the one that's right for you…
Hatha
Hatha yoga aims to bring the mind and body into perfect balance and is one of the gentler varieties. Hatha focuses on holding postures that are designed to stretch and strengthen the body as well as using breathing to help clear the mind and channel emotions, helping to cope with negative ones like stress and anxiety.
During a class, your instructor will ask you to hold a series of poses working the various muscle groups and testing your powers of concentration. It might sound like there's a lot going on, but Hatha is actually a great introduction to yoga as it will force you to master basic poses and relaxation techniques that will strengthen your body and allow it to cope with other more demanding forms.
Sivananda
Sivananda yoga is ideal for anyone struggling with the pressures of life in the western world. Based on the philosophy of Swami Sivananda who taught his followers to "serve, love, give, purify, meditate, and realize" the practise summarizes his teachings into five principles that help focus on your health and well-being in a way that fits into your lifestyle: exercise, breathing, relaxation, diet (vegetarian) and positive thinking and meditation.
A Sivananda class lasts about 90 minutes, usually beginning with a few simple sun salutations, before moving through 12 basic Hatha postures (including headstands, but don't worry no one expects this in your first class). After the poses comes the relaxation portion of the class, involving deep breathing and gentle exercise to encourage the body and mind to open and relax. Perfect for breaking up a stressful week at work.
Vinyasa
If standing still in a posture isn't your idea of relaxation a Vinyasa class, which connects postures and poses through dance-like movements, might be more your thing. The purpose of Vinyasa Yoga is to create enough body heat to result in purification through increased circulation and sweating, so Vinyasa classes are generally more fast-paced than other forms.
Classes vary from teacher to teacher but generally involve six series of movement, with classes ranging from beginners to intermediate and advanced. Total beginners might find a Vinyasa class challenging so it might be worth mastering some of the basics first. However, if you're up for a bit of hard work, Vinyasa is great for weight loss and lowering blood pressure and cholesterol.
Ashtanga
Similarly fast-paced and sweat-inducing – although without the 'dancing' – Ashtanga involves six series of sequential postures that gradually become more difficult. Based on eight spiritual practices called 'limbs' — self-restraint (Yama) and breath control (Pranayama) to name a couple — Ashtanga is a bit of a mixture of different forms of yoga.
While it can be hard work (wear loose fitting clothes, you will sweat), Ashtanga is also great for unwinding after a long day as it forces yogis to concentrate so much on posture and breathing. The weight loss and improved flexibility, circulation and strength are added bonuses.
Iyengar
One for all you perfectionist types, Iyengar yoga is all about focussing on correct body alignment and developing strength while holding traditional poses for a very long time – although with the support of certain props. The aim of Iyengar is to unite the body, mind and spirit by forcing you to concentrate on the task in hand – which is generally not falling over.
Classes last about 90 minutes and can be more verbal than other forms as your teacher offers advice on perfecting your pose. A good option for beginners, learning correct poses through Iyengar makes it a good foundation for more advanced poses while also improving strength, stamina, and balance. It also releases tension and, according to some, helps you to understand your 'self'. Not bad for a bit of standing still.