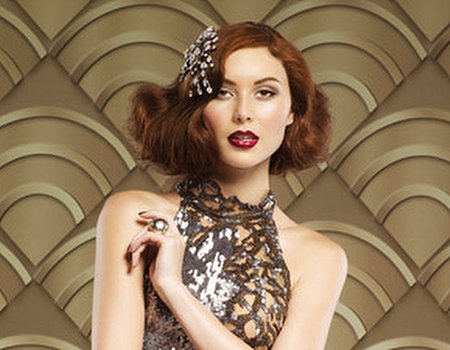 Here at Wahanda we do all we can to feel the best we possibly can every day. We take out vitamins, drink plenty of water and always eat our five a day. But do you know what makes us feel really good inside? Knowing that our new haircut looks amazing.
You know that 'I'm on top of the world' feeling you get when someone compliments a recent cut or new do? Well imagine feeling that great every day. With 365 days in a year it's not going to be easy coming up with a new look each day, and chances are there'll be some questionable results. We've been thinking about quick and easy ways to change up our look over party season and to guarantee look good/feel good results we decided to ask an expert. Fancy a show-stopping new look? Try one of Paul Mitchell's top three party hair styles.
The faux bob
Tired of your long luscious hair but not quite ready for the chop? Test the waters this winter with a faux bob:
Start by applying a styling mousse to damp hair and blow drying with a larger round brush. Paul Mitchell recommends their Sculpting Foam and Express Ion Round Brush for guaranteed results.
Take 2-4 inch sections of hair, spray with a heat protection spray like Paul Mitchell's Hot Off The Press and begin curling sections with a styling tong. Repeat process all over hair.
Gently brush out curls and pull hair into a low ponytail. Tuck the end of the ponytail into the nape and pin with grips.
Tease hair out and adjust to create the length you want.
Finish with a good spritz of finishing spray. Paul Mitchell recommends Super Clean Extra.
For a winter 2012 update, or a touch of classic Hollywood glamour, add a decorative hair clip - the glitzier the better.
Queen of curls
Sick of your straight hair? The grass is always greener, and you can be too – or curlier anyhow – thanks to Paul Mitchell's easy guide to gorgeous party curls:
Apply a styling cream like Paul Mitchell Quick Slip to damp hair and blow dry using a large round brush.
Starting at the nape, take 2-4 inch sections of hair, spray with a heat protection spray and curl hair with a styling tong.
Dress out, brushing through hair using a Paddle Brush.
Rub a little shine serum like Paul Mitchell Gloss Drops together in your hands and run through the ends of the hair first, moving up the hair until evenly distributed.
Finish with Extra-Body Finishing Spray.
Diamond Shine
Are you hoping to turn a few heads this season? Nothing says look at me like astonishingly shiny hair. If it doesn't come naturally to you, fake it with these top tips:
Prep damp hair with a smoothing serum like Paul Mitchell Super Skinny Serum and blow-dry the hair smooth using a slim paddle brush.
Spritz with a heat protection before taking diagonal sections of hair and straightening with straightening irons. Repeat until your entire hair is poker straight and silky smooth.
Finish with a good spritz of shine spray. Paul Mitchell recommends The Shine for a mirror-like effect.
Image courtesy of Paul Mitchell Luxury Haircare