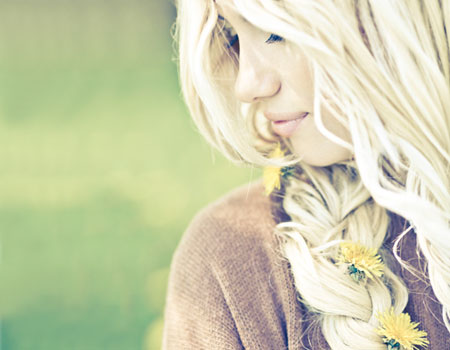 It's been a long winter full of cold weather, rough winds and central heating, and it's taken its toll on our follicles. Thankfully spring is finally on the horizon (we hope), so embracing the season's spirit of renewal, we thought we'd breathe some new life into our stressed-out tresses. Whether you're after a whole new look or a reviving treatment, it's time to wake up your hair…
Chop it
We all know the fastest and simplest route to a whole new look is a drastic haircut. So now that winter's almost over (technically at least) and you won't be needing the added insulation that long hair provides, why not go for the chop? Look to Jennifer Lawrence, Jennifer Aniston and Taylor Swift for inspiration, all of whom have all shorn off longer locks in favour of short, chic pixie cuts and bobs this year. If you're not quite brave enough to go for the chop then the cut du jour, the 'long-bob' or 'lob', looks set to stick around for the foreseeable future. Ask your stylist for a graduated bob to the shoulders for a simple spring do that suits all.
Revive it
Post winter hair seems to fall into one of two categories. Either it's acting out (splitting at the ends and breaking off at the mere mention of a hair brush), or it's given up the fight and resigned itself to a lifetime of looking dull. No matter how badly your hair is behaving, now is the time to show it some love. The first step to healthy, glossy hair is a trim. Getting rid of split ends will encourage hair to grow faster, look sleeker and transform the way it moves. Team it with a salon conditioning treatment or at home hair mask like the amazing Bumble and Bumble's Quenching Masque (£27 by Bumble and Bumble) and it'll be like winter never happened.
Style it
If you tend to style your hair to complement your wardrobe, there's a good chance that at some point over the past few months you'll have swept it up into a topknot or some kind of intricate braid. The bad news is, if you want to stay ahead of the game you're going to have to switch it up a bit. The good news is spring 2014 sees hairdos get simpler. Go for messy ('undone') updos, simple girlish plaits and (Victoria Beckham favourite) the low maintenance low bun or low pony. For a quick update that's oh so S/S14 add an accessory like a sporty headband, chic turban or decorative brooch. Stylish yet lazy, a bit like us really...