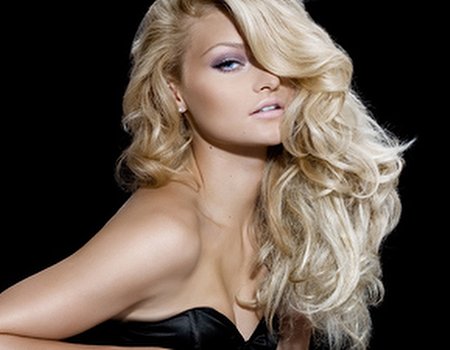 Remember when getting party ready just meant putting on a pretty dress, tying a shiny ribbon in your hair and practising your very best smile? Life certainly was simpler as a child. These days we've got legs to shave, makeup to apply, eyebrows to pluck and then, to top it all off, hair to style. If only there was a simple way to get party-ready.
Well if you were paying attention to this year's autumn/winter catwalks you'll know that styling your hair this party season might be simpler than ever before. This year some of the biggest names in fashion chose to complete their autumn/winter looks with simple hair styles, finished with an eye-catching accessory. So if you find yourself rushing straight from office to party over the next few weeks, take inspiration from the likes of Dolce and Gabbana and Gucci and keep it simple. Just make sure you've got some of these tools in your bag.
Volumiser
Whether your signature 'do is a ponytail, plait or simply long and loose, give it a boost for party season with a little bit of volume. Or a lot of volume, if you prefer. When it comes to party hair, bigger is better. From Bridget Bardot to Cheryl Cole, big hair has always been a great way to glam up your look and these days it doesn't have to involve hours of painful back-combing.
If you're wearing your hair up, first sprinkle roots with a good dose of volumising powder like GOT2B volume style powder. The weightless microparticles help texturize the hair's surface, giving hair instant root lift and volume in 10 seconds. Or, if you're wearing you hair down, go all out and spray it from every angle with a volumising spray like Mark Hill Big Night Out Supersize Me Volume Spray. Forget flat hair this party season. You shall go to the ball... and you'll have the biggest 'do there.
Shine spray
Glitter and sparkle has always been a big part of party season and we think it always will be. Want to dazzle on the dance floor? Why not start with your hair. There are hundreds of ways to boost hair's natural shine, from shampoos and conditioners to a few age old tricks like rinsing hair with cool water to seal cuticles – chilly but effective. But when you're the last one in the office and everyone's waiting for you at the bar you don't have time for things like that. You need shiny hair and you need it now.
This season try investing in an instant shine-boosting spray. We love Bumble and Bumble's Shine on Finishing Spray. The results are instant and unlike some other shine sprays it doesn't weigh hair down or leave it greasy – a bonus when your diary's filling up with night after night of looking gorgeous.
Decoration
With bejeweled satin headbands at Oscar De La Renta and glittery hair clips at Gucci, a simple 'do finished off with a glitzy accessory is the chicest way to wear hair this party season. Even better, it's the easiest. It's as if the fashion gods have looked upon our annual party season struggle to look fabulous fast, night upon night and decided to take pity.
This year instead of battling with curling tongs or attempting an elaborate bee-hive try something simple like a messy low bun and decorate it with something sparkly. Shops are filling up with hair accessories for grownups including studded Alice bands, sequin bows and even top knot decorations. That's right ladies, it's time to fish out any ribbons, embellished Kirby grips and tiaras you have left over from childhood. Hair accessories are back and the timing couldn't be more perfect.