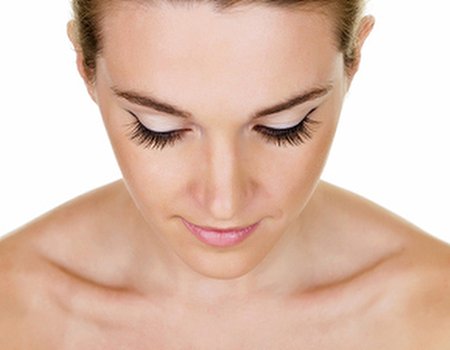 A glove here, a cardigan there, as the weather warms up shedding winter clothes is easy. Shedding winter skin, however, requires a little more work. Months of cold winds and dry central heating have taken their toll on our skin and all the products, make up and self-tan we've used to combat the effects have clogged pores and left our skin looking dull, cracked and flakey.
So what's the fastest, most effective way to get rid of these unsightly winter leftovers? Peel them off like the 100 denier tights you've been wearing all winter. Chemical peels have become one of the most popular ways to treat skin concerns from acne to ageing without resorting to surgery. As the name might suggest these tingly treatments are not for the faint hearted. Fortunately, these days there are a few alternatives that aren't quite so scary, so come out from behind the sofa and have a read…
What is a chemical peel?
Also known as glycolic skin peels, chemical peels work by removing the top layer of skin (and all its flaws) to reveal the smoother surface underneath. After a consultation with a dermatologist to make sure the treatment is appropriate for you, a chemical solution is painted onto your face causing skin to blister and peel. Sounds gross but bear with us…
Once the treatment is over (this can take anything between 10 minutes and two hours depending on the chemicals used and damage you are hoping to repair) the solution is removed, usually with an abrasive cleanser, taking the peeled skin and all its imperfections with it. Often, your skin continues to peel and renew throughout a recovery period at home, during which it will need to be protected from the sun and the elements. Lovely.
Feeling brave?
For superficial wrinkles and blemishes, most doctors recommend peels that use mild chemicals like alphahydroxy acids (AHA) or betahydroxy acids (BHA). These treatments take roughly half an hour and require little or no recovery time. If the damage to your skin goes deeper and you need something more drastic, most doctors will suggest a Phenol peel. Phenol peels use harsher chemicals and are more painful meaning you'll need to go under general anaesthetic before you begin. Phenol treatments takes between one and two hours and it can take up to 10 days for the skin to heal and the swelling to subside. Most people experience a stinging sensation but maintain the fresh-faced results are worth a little discomfort. However, the treatment's not for everyone so if you don't want to risk spending a week under a balaclava - not very seasonal - opt for a gentler alternative.
The less scary
If you like the sound of baby-soft skin but can't face the ten day nappy rash? Perhaps a DIY chemical peel is what you're looking for - and no, we don't mean paint stripper. Bravura's collection of Skin Peels for Home covers a range of different skin types and concerns. The treatments work by speeding up the skin's natural shedding process by loosening the bond that holds dead cells onto the surface of the skin. Choose from classic Glycolic acid (great for acne marks, wrinkles, pigmentation and rough skin), Lactic Acid (a naturally occurring acid and milder alternative for sensitive skin) and Salicylic acid (recommended for oily skin prone to blackheads and breakouts). Treatments last no more than ten minutes and can be used as frequently as desired depending on the effects. Best of all they can be done from the comfort of your own home. See www.bravuralondon.com for more details.
The walk in the park
For any squeamish souls who would rather steer clear of the word 'peel' altogether, there is another option: chemical exfoliating cleansers. The aim behind even the most basic exfoliator is to remove the top layer of dead or dry epidermal cells, exposing healthier skin below. Using an exfoliating cleanser that contains a chemical exfoliant like Glycolic acid a few times a week will enhance this effect with just the slightest hint of a tingle. Like chemical peels, cleansers like sk:n Exfoliating Facial Cleanser use the acid to accelerate the body's natural exfoliation process and stimulate the production of collagen without the peeling and no need for a recovery period... or paper bag.