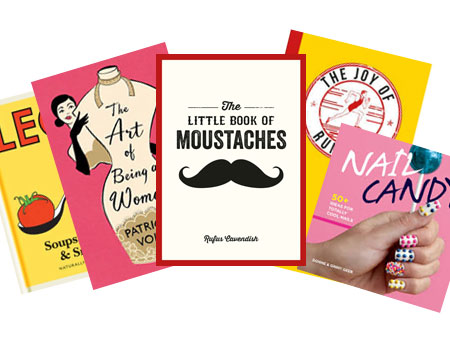 Nothing compares to the excitement felt during childhood when opening presents on Christmas morning, or the disappointment when that rather square, not very bendy present turns out to be…a book. Fortunately we've grown out of such childish disappointments and think books make rather nice present these days – some more than others of course. So, in a festive and literary spirit, here are the five health and beauty books we'd like to unwrap this year…
Nail Candy by Donne and Ginny Geer
Perfect for fashionistas and coffee tables alike, Nail Candy is packed full of gorgeous photos of unique nail art designs and fool proof instructions on how to copy them. With over 50 design ideas ranging from 3D floral prints and polka dots, to Hello Kitty and Batman, there is a nail for every reader, every outfit and every skill set. The instructions are easy to follow, breaking the most complex looking designs into easy steps. Give it to your best friend in return for free nail art for the next 12 months. A present for everyone.
Urbanoutfitters.co.uk, £12.99
The Art Of Being A Woman: My Mother, Schiaparelli and me by Patricia Volk
Ok this one isn't so much of a 'How to' beauty book, but it's a brilliant read for modern women. Torn between the old fashioned expectations of her New York socialite mother and notorious fashion designer Elsa Schiaparelli's autobiography, Patricia Volk combined the two to establish her own 'rules' on fashion, makeup, entertaining and generally how to be a woman. This memoir contains them all, alongside glamorous photos and illustrations. Well written, fun and historical, it's a truly inspiring read.
£11.29, Waterstones.com
The Joy of Running by Paul Owen
Call it the Olympic effect (or the result of a few inspiring running apps launched this year) but throughout 2013 running has got a bit trendy. If you're shopping for a sprinter this year forget the sweatbands and blister socks and get them this entertaining and informative guide. Full of facts, hints, real-life stories and quotes it's almost enough to make us sack off Christmas pud and put our sneakers on… almost.
£9.99 Oliverbonas.com
The Little Book of Moustaches by Rufus Cavendish
Just in case the whole Movember thing passed you by, moustaches have had something of a revival recently. No longer reserved for Tom Selleck and maths teachers, the moustache has gone mainstream (sort of) and this humorous little manual has everything a 'mo-bro' needs, from how to groom your 'tache to inspirational (mo-tivational) quotes. Whether you're after an ironic Secret Santa gift or hoping to gently nudge the moustache in your life in a more groomed direction, this book makes for an amusing read.
Asos.com, £4.99
Leon Soups, Salads and Snacks by Leon Restaurants
Help your loved ones out with their inevitable New Year's Resolutions with a covetable yet functional (and healthy) gift like this flavourful recipe book. Already a lunchtime favourite here at Wahanda Towers, Leon restaurants are all about swapping that boring sandwich for an energy boosting, taste-bud tingling substitute, and the collection of 'Little Leon' books mean you can do this from home. Buy it for your other half and look forward to eating things like Persian onion soup and duck and lettuce wraps for lunch in the New Year. Yum.
£4.78 Amazon.co.uk