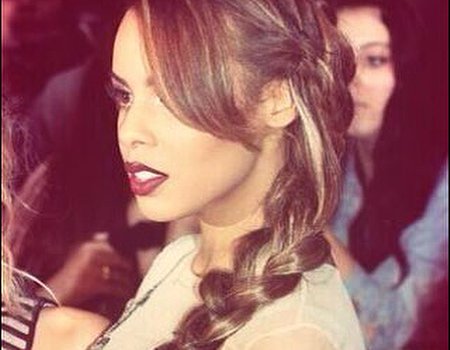 Forget the beachy waves and loosely swept topknots of summer, autumn is all about sleek, chic 'dos that won't be ruined by a bit of rain. So while you're browsing new season coats, boots and thermals, grab a brush, a few Kirby grips and some extra firm hairspray and get practising these autumnal updos…
Image from @RochelleTheSats Twitter
The new plait
Last season's braid was designed to be messy and laid-back – despite a good 10 minutes spent weaving to achieve that effect. Perfect for mid to long length hair, this season the plait should be worn long, loose and very glossy à la Rochelle Humes:
After washing hair apply a smoothing serum like Kerastase Cristalliste Cristal Sculpt Double Serum (£25.80) then blow-dry smooth.
Pull hair over one shoulder and plait the entire length, being careful not to make it too tight.
Secure with a thin hairband and begin gently loosening by taking a section at the top in both hands and softly pulling on either side. Repeat until you have worked your way down the entire plait.
Gently pull a few strands free around the face to frame and spritz with a shine boosting hairspray like TIGI's Bedhead masterpiece Massive Shine Hairspray (available for £11.95, feeluinique.co.uk).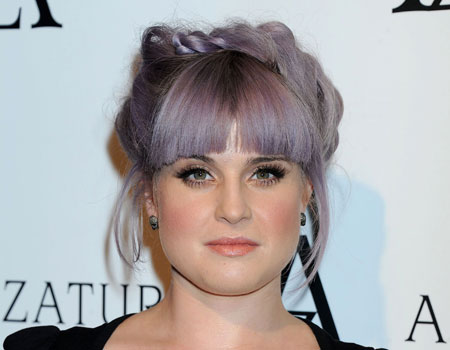 Image: REX/BroadImage
The new Heidi
Far from being raised by her grandfather in the Swiss mountains, Kelly Osbourne is famous for her rock 'n' roll family and unique sense of style. When she stepped earlier this week rocking a lilac braided crown, the effect was at once feminine, edgy and a little bit milkmaid. Ideal for short mid-length and long hair, Kelly's look is effectively a French braid that begins at the front right side of her head and works its way around the circumference until the ends meet the starting point. With braids set to be a huge trend this season and next, here's how to get the look:
Begin by taking a good portion of hair (one or two inches) from the front right side of your head, dividing it into three strands and plaiting a couple of rows as normal.
Begin incorporating strands from the rest of your hair by gathering loose hair from each side as you go and including it in the plait.
Continue like this around the circumference of your head, creating a crown effect and securing with Kirby grips as you go.
When you reach the end of your plait, fasten it neatly to your head using Kirby grips. #Depending on hair length you may or may not reach the start of the plait like Kelly. If your hair is not long enough secure it where it finishes, or if it's too long finish with a regular plait, coil it into the 'crown' and secure.
Spray with a good deal of firm hold spray, grab a milk bucket and head for the hills.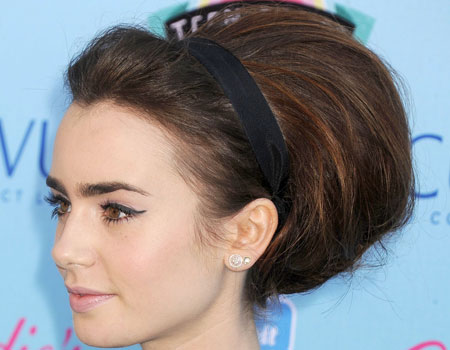 Image: REX/BDG
Oh Beehive!
It seems there's little Lily Collins can do wrong when it come to fashion and beauty – including bringing back the bouffant. The sleekest way to wear big hair, the bouffant (or beehive) is classic, sexy and actually fairly straightforward. Great for bobs and mid-length hair, here's how to do it:
Begin by taking the front section of your hair, gently backcombing and folding back over itself to form a small quiff. Secure with a Kirby grip.
Begin backcombing the remaining hair, being as gentle or enthusiastic as required, depending on how high you want your bouffant. Spray with hairspray throughout. If you're not blessed with Lily's locks or struggle with backcombing a hair piece can work a treat. Many salons can provide these, speak to your stylist about finding the right colour and how to use it.
Using your hands, gently smooth hair into shape and secure underneath using Kirby grips. Tip: If the top layer looks a little fuzzy tame it by gently running a fine-toothed comb over the surface, following the shape you have created.
Finally pop on a plain black hairband for a touch of Collins class. Told you it was simple.