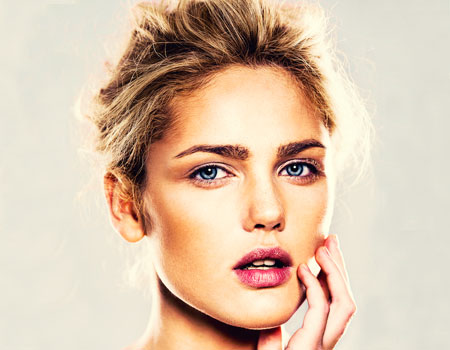 Despite being a nation who cumulatively spend more than £2.3 billion a year on maintaining our eyebrows, a recent survey has revealed there are a whopping ten brow blunders that we are committing on a daily basis.
To celebrate the launch of Benefit's new instant brow thickener Gimme Brow, QVC surveyed 1,000 women in the UK about their tweezing habits.
As expected, the survey revealed the nation's most envied brows belong to Kate Middleton (with half of us admitting we'd love to have arches worthy of the Duchess) and Cara Delevingne (14% of us are after the supermodel's notorious brows).
So what's stopping us from rocking a royal brow? We are. Or more specifically, our grooming habits.
Spending an average of £10 a month each on transforming our caterpillars, it seems we can't leave our brows alone and all this DIY waxing, tweezing and dyeing is leaving our brows a little worse for wear. The survey results revealed the ten most common brow offenses to be:
Removing too much hair
Mis-matching brows
Choosing the wrong shape 
Overgrowing brows
Over-waxing
Using the wrong shade of dye
Shaving off too much brow 
Accidentally bleaching eyebrows 
Shaving lines into eyebrows 

Dying eyebrows two different colours
Given our apparent determination to damage our brows, it might surprise you to hear that 55 per cent of British women claim that it affects their confidence when they feel theirs aren't looking their best.
With an interview on the horizon 53 per cent of us feel more confident with groomed brows, and if it's a hot date the number rises to 63 per cent. Good to know we've got our priorities straight.
Perhaps that's why up to a third of us admit to beautifying our brows every day, and one fifth of us will not leave the house without first paying some attention to them. Overall, we spend roughly ten minutes per week on our tweezing or shaping, that's more than we spend applying lipstick (six minutes per week) and blusher (seven minutes).
One in eight UK women admits to spending up to 30 minutes a week (which adds up to 26 hours a year) sorting out her brows, and in the West Midlands we can only assume the average is higher with 45 per cent of women admitting daily brow grooming is a must.
Jo Lee, beauty buying director of QVC says of the findings: "The power of the brow is increasingly evident, with women spending more money and time on their eyebrows than ever before".
Here at Wahanda we say if you want something done properly don't do it yourself. Want perfect brows? Leave them alone for a week or two (sit on your hands if you have to) then book a threading or shaping appointment with an expert who knows exactly where to tweeze, trim and fill in to create the wow brows you've always dreamed of. You dream about eyebrows too... right?