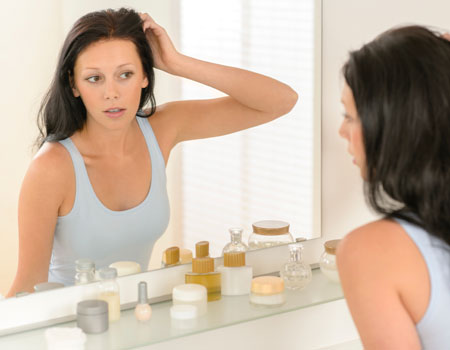 If, like us, you thought you'd stopped making beauty errors the day your best friend finally pointed out the foundation tidemark you'd been sporting throughout your teenage years, prepare to be shocked... and then to feel a little ashamed and paranoid.
According to a new study by Hairtrade.com, there are ten common grooming mistakes that 90 per cent of UK women are making every day, and they're not as obvious as you might think.
Questioning focus groups of women aged 25-40 on their grooming habits, the professional hair care website found that these are the most common faux pas we still haven't grown out of:
1. Washing hair too often
Washing hair too frequently can result in stripping it of its natural oils, meaning you are actually doing more harm than good. Hairtrade.com recommend washing your hair every other day and, over time, stretching it to once every three days.
2. Overdoing the conditioner
Another common hair washing error is using conditioner like it's shampoo, i.e. applying it all over our hair. Since the hair at our roots is actually new, healthier growth, it doesn't need the extra conditioning and can actually end up looking flat and greasy. Concentrate on the tips of your hair and your entire 'do will benefit.
3. Not using protection
According to Hairtrade.com, there really is no excuse for not protecting your hair when you use hairdryers and straighteners most days. Without a protective shield, all that heat will your locks dry, frizzy and in poor condition. We love Argan Oil Heat Defence Spray by Lee Stafford (£12.99, Boots).
4. Repetitive ponytail syndrome
If you often tie your hair up in a tight ponytail, make sure you are not tying it in exactly the same place every day. Doing so can cause tension on the hair and, over time, can weaken it.
5. Neglecting your make-up brushes
It only takes a minute, but cleaning our makeup brushes will always be a job we avoid. Well, we're not just in danger of mixing colours, not cleaning brushes will also allow bacteria to build up, leading to potential breakouts. Aim to give your brushes a thorough clean once a week.
6. Forgetting your neck
We all worry about the signs of ageing, so it's amazing really that so few of us take care to cleanse and tone our necks everyday. The skin on your neck is delicate and prone to sensitivity, so to keep it looking its best, be sure to include it in your daily cleansing routine.
7. Over-treating and over-covering spots
Here at Wahanda, the minute we feel a spot coming we reach for the spot cream and apply it religiously throughout the day. What we didn't realise (along with about 90 per cent of women it would seem) is that these creams work on our skin for hours and continuous application can actually be damaging.
8. Applying foundation before moisturiser is dry
It might sound like an oxymoron, but for moisturiser to work properly it needs time to dry. Always leave a minute in-between applying moisturiser and foundation to benefit skin and prevent makeup from thinning out.
9. Plucking eyebrows too close to the mirror
Plucking too close to the mirror means looking at every hair rather than the overall shape of your eyebrows and can leave you with thin, uneven brows. Instead use a large mirror and take a couple of steps back so you can see your whole face, not just your arches. Better yet, get an expert to do it for you.
10. Yellow nails
Brights might be in this season, but when it comes to your natural nail colour yellow is never a good look. Unfortunately, constantly painting and decorating our talons can change the natural colour of the nails so make sure to always use a base coat to prevent staining.
There you have it, no more excuses ladies. We're off to clean our brushes, dirty our hair and take a long, hard look at our eyebrows…