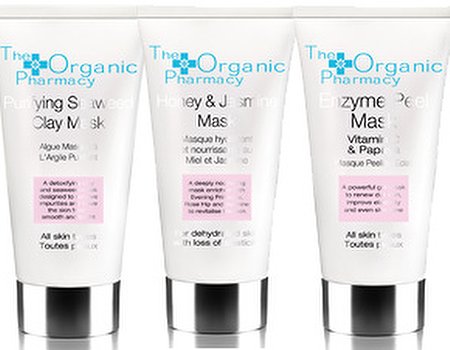 As we bid farewell to a disappointing summer (weather-wise at least) we at Wahanda HQ would love to report that we're looking at a glorious September full of sunshine and impromptu barbecues. Unfortunately, it doesn't really work like that. So as autumn approaches and we prepare to swap our flip-flops for boots it's also time to think about changing our beauty regime. What better way to start than with an Organic Pharmacy facial at the brand new Beauty Workshop at Selfridges?
This September, The Organic Pharmacy is launching a range of indulgent facemasks on its sparkly new counter in the Selfridge's Beauty Workshop. To introduce these luxurious masks, The Organic Pharmacy will also be offering a week of exclusive skin renewal facials at the Beauty Workshop to revitalise skin and prepare it for the coming months.
There are three masks to choose from: an Enzyme Peel Mask with Vitamin C and Papaya, a Honey and Jasmine mask and a - less delicious but equally effective – Purifying Seaweed and Clay Mask. Each one tackles a different skin requirement, so whatever you've been doing this summer, you're bound to find one to suit your needs.
If, however, you find your greatest requirement is good old fashioned pampering, make sure you visit the Beauty Workshop between the 16th and 22nd of September to experience one of the Ultimate Skin Renewal Facials. The facials are tailored to your personal skin type, working to dramatically improve skin tone, cleanse and hydrate and leave you fresh, glowing and ready for whatever the coming season has to throw at you – apart from conkers that is.
Each facial lasts a luxurious 45 minutes and is performed in the Workshop's private beauty rooms - so even though you're in one of the busiest department stores in the world you won't even know it.
Co-founder of The Organic Pharmacy, Margo Marrone says of their new counter "We are very excited to be part of a brand new chapter for Selfridges and thrilled to be launching our three new face masks to their customers."
The Ultimate Skin Renewal Facials cost £45 but this is redeemable against any Organic Pharmacy product purchased at the counter on the day of your treatment - but don't forget, this fab offer will be available for one week only. It might be time to say goodbye to your (natural) tan, but you can hold on to your glow this September… you'll just have to be pretty quick about it.