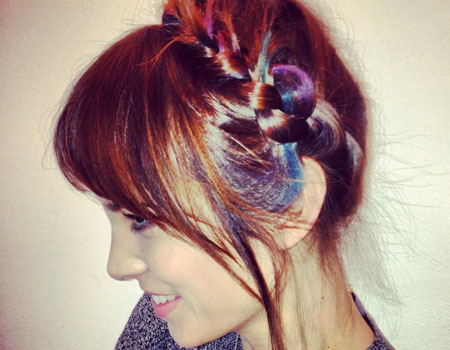 Big brows, glamorous grunge and even some My Little Pony-tails. 2013 has been full of beauty surprises, some good, some bad and some… let's call them 'memorable'. As another year comes to an end we wanted to celebrate some of our favourite looks from the last twelve months. Here are a few we're looking forward to taking into 2014, and some that are best left in the past…
Best of all
There were so many trends we wanted to squeeze into this brief roundup, but wanting to keep to a neat 'top five' format we've had to find a way to combine a few in one multitasking award. Fortunately Alexa Chung's 'My Little Pony' halo braid ticked all three boxes, combining pastel streaks, plaits and a messy updo. A tricky one to try at home – and possibly not appropriate at every occasion – Alexa's do is fun, original and very pretty. Possibly our favourite look of the year, well done Alexa. Image: @alexa_chung, Twitter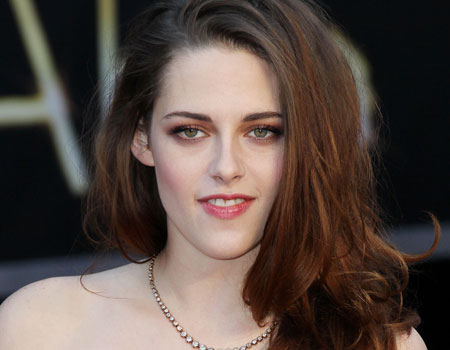 Image: BroadImage/REX
Makeup
As always the year has brought us a multitude of makeup looks to our delight and despair. There was Lady Gaga's smeared-paint face decoration ('Art pop' indeed), Alexa Chung's feline flicked campaign for Eyeko and – our favourite - the feminine yet rocky 'glamorous grunge'. Whether it's a strong berry lip or a smudged bronze eye like Kristen Stewart at the Oscars, this look has proved it has staying power. We might be approaching 2014, but the 1990s live on.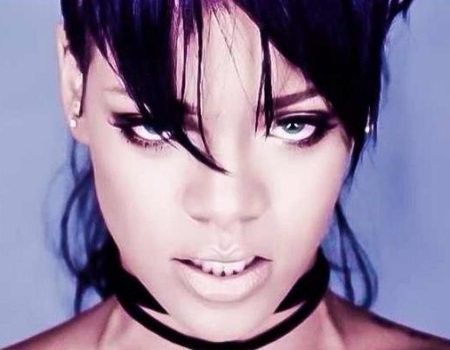 Image: badgalriri, Instagram
The haircut
Thanks to the likes of Jennifer Lawrence (post-Oscar pic), Anne Hathaway and Charlize Theron, 2013 was the year of the pixie crop – the short, chic style that (according to this selection of Oscar winners) suits all ages and faces. On a less stylish note, 2013 was also the year queen of the new hairdo Rihanna attempted to bring back the mullet. Thankfully, it didn't' quite catch on and even Riri herself has since reverted to a nice sensible bob. Much better.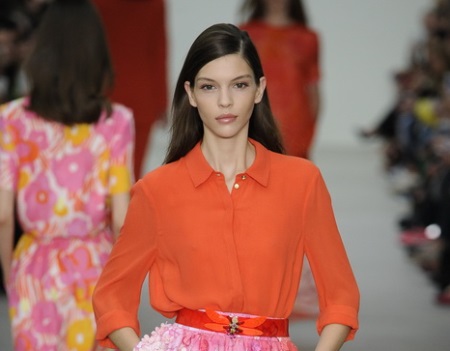 Hair trends
Every year a few brave souls attempt to bring the 'next big trend' from the catwalk to the high street and every year a few of us find that's it's rather difficult for us non-super model types to pull off. For this reason we're awarding 2013's penchant for wet look hair (seen at Prada, Alberta Ferretti and Jason Wu) the worst hair trend - unless you're Carey Mulligan. In contrast, we're awarding Matthew Williamson's S/S 14 'Working Girl' look (above) the best (and easiest to copy) trend for hair. Side partings all the way.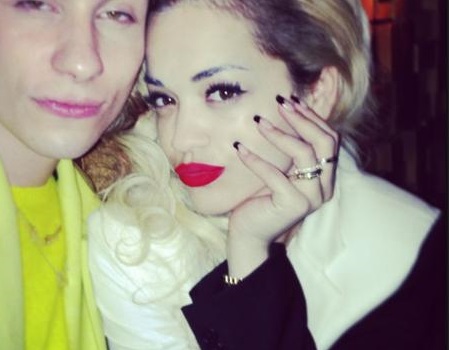 Image: @RitaOra, Twitter
Nails
Red nails, nude nails, black nails and berry nails were all big news in 2013 but with nail art remaining a strong trend it was the reverse manicure that really caught our attention. An updated French mani, pale nails with dark tips proved themselves to be both edgy and elegant and a huge hit with the likes of Lana Del Rey, Jennifer Lopez and Rita Ora (above). Having only just perfected the art ourselves there's no way we're leaving this one in 2013.