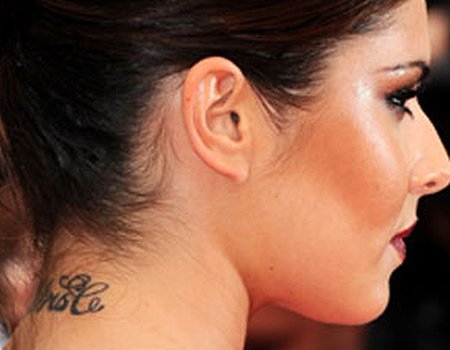 When a photo of a woman's posterior covered by a lacy pink thong and giant floral tattoo appeared on Instagram last month and rumours began circulating that said posterior belonged to Cheryl Cole the nation gasped. We all know Cheryl likes a tattoo (she reportedly has at least nine others) but an 'English rose' covering her entire buttocks and a good portion of her back, surely not. This is the nation's sweetheart we're talking about.
When Cheryl confirmed that the illustrated bottom in tattoo artist Nick Hurtado's picture was in fact hers the world was stunned. Some didn't believe it. Some asked why. Some tweeted things like: "YO @CHERYLCOLE WHAT HAVE YOU DONE TO YOUR ASS? YOU SIT ON AN ARTISAN CAKE OR SOMETHING? THIS A CRAZY BUM JOKE?" 
It wasn't a joke and as fans continued to express their disapproval Cheryl took to Twitter to defend her inking tweeting: "I've never really concerned myself with other people's body parts" and revealing that she had had the tattoo for seven to eight months already.
Bringing a whole new mean to pain in the bum, it was also revealed that the entire process took a whopping 15 hours with Cheryl admitting on Twitter she'd give the experience 9-10/10 in the pain stakes.
So, was it worth it? Cheryl seems to think so, although presumably she once felt the same about the, now sadly ironic, 'Mrs C' she had tattooed on the back of her neck. Taking heed of what she said about not concerning ourselves with other people's body parts, we won't get into whether or not we'd have had it done. However, after research by private healthcare search engine WhatClinic.com revealed it would take 20 hours and cost approximately £12,000 to remove it (having already spent an alleged £14,000 putting it there in the first place), we will say we sure hope she doesn't regret it.
"Almost a fifth of Britons with tattoos regretted having them done"
The research, prompted by a rise in Brits enquiring about tattoo removal, also found that David Beckham would need to pay around £40,000 and sit through 71 hours of removal to get rid of his tattoos - not that we would suggest he does anything to alter his bod. Harry Styles, meanwhile, is looking at £11,000 and 61 hours worth of tattoo removal, while queen of tats Rihanna would require around 218 sittings adding up to roughly 73 hours and £13,120. Ouch.
We live in the real world (most of the time) so we're not going to pretend these celebrities would be bankrupted by these costs, but for the rest of us these results certainly provide a lesson in thinking before inking. Further figures from WhatClinic.com reveal there has been a 68% increase in the number of people enquiring about tattoo removal in the past 12 months alone, and a recent poll by Harris Research showed that almost a fifth of Britons with tattoos regretted having them done – including Fearne Cotton who recently admitted she regrets one or two of her 11.
Removal options
There are a few options for those of us who regret immortalising a now ex-boyfriend's name on our foot, beginning with removal cream. Designed to fade the appearance of tattoos there are now many tattoo removal creams on the market, most of them working by bonding with the tattoo pigment, causing it to be rejected by the body which gradually forces it to the surface to form a scab that eventually falls away. Sounds too good to be true and reviews are mixed but it's a purse friendly (and pain free way to start).
Excision and dermabrasion are other options for smaller tats. Excision removes them by cutting away the inking and sewing up the surrounding skin and dermabrasion uses chemicals to break the skin down and rub away the layers containing ink.
For inking's like our Chezza's, however, laser removal remains the most popular and most effective choice. Laser removal uses intense pulsed light which passes through the skin but is absorbed by the ink, gradually breaking it down into smaller molecules, that can be absorbed by the body and disposed of. 
MediSpa chain Trueskin have recently unveiled a revolutionary new tattoo removal machine which took nine years in the making and has the capabilities to remove a tattoo in as little as three sessions (large tattoos usually take anything from 12-18 using traditional removal methods). The PicoSure machine works using lasers (unlike IPL which uses light) to deliver ultra-short pulse bursts of energy to the skin in trillionths of a second. But you'll have to get in line as currently the only venues in Europe equipped with a machine are Trueskin's Bluewater and Esher clinics.
Having said all this we're all for a bit of body art here at Wahanda but given these recent facts and figures we urge you to be very sure before you do 'a Cheryl'.
Image: REX/Joeseph Keriakian