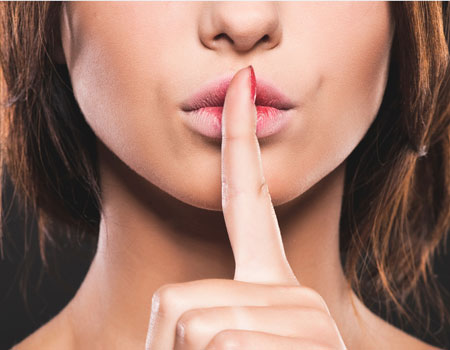 Hands up who has the perfect relationship, built on honesty and communication? Do you and your partner share everything and promise to love each other despite your flaws? We don't believe you. According to a recent survey by Feelunique.com the average woman is hiding eight dirty little beauty secrets from her other half.
While a little discretion is understandable around more embarrassing beauty habits (shaving your toes, waxing your 'tache etc), the survey also found that a number of us women go above and beyond when it comes to keeping our imperfections from our partner, even hiding the fact we cleanse, tone and moisturise our skin.
We're all for faking a bit of natural perfection but, as if trying to look perfect wasn't hard enough, it would seem some women are taking the whole 'naturally' (or unnaturally rather) flawless thing to extremes. Along with keeping things like bikini-line management and cellulite cream a secret, a few females out there are making the rest of us look bad by hiding the need for basic maintenance like toenail cutting and leg shaving. Come on, we all do it.
If you're not someone who feels the need to hide the fact that your toenails grow (which, by the way, they are supposed to), you might be a little perplexed by these findings - and as skincare advocates, we can't imagine why anyone would feel ashamed of a sensible cleansing regime. Well the driving force, according to 35 percent of the 2000 women questioned, is a belief that their partner would be turned off by seeing the effort they go to to look the way they do. We think they should be flattered.
Twenty percent of these women also admitted that no matter how comfortable they get with a partner, they will never fully reveal the lengths they go to for beauty. So what exactly are these lengths? Here are the top 20 beauty secrets women hide from their partners:
Plucking or shaving the hair on our toes
Plucking or waxing the hairs from our chins/faces
Plucking stray body hairs

Moustache waxing or dyeing
Removing hard skin on our feet

Wearing body slimming underwear

Plucking our eyebrows

Plucking out nose hairs - ouch

Cleansing, toning and moisturising

Cutting our toenails

Teeth whitening

Using anti-aging creams
Putting toothpaste on spots
Applying a face pack
Waxing/shaving legs and under-arms
Enhancing cleavage with 'chicken fillets'

Exfoliating

Using anti-cellulite cream
Ladies, it's 2014 and beautifying is bigger than ever. We say it's time to stop being embarrassed. To come out of the shadows wearing your face pack and shout from the rooftops 'I shave my toes'. Oh OK, maybe some things are better left a secret...