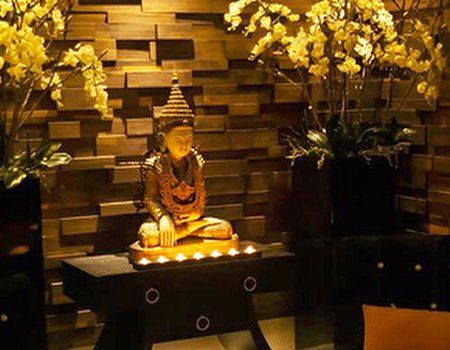 Paddling in Peckham, ice-lollies in Liverpool and sun-bathing in Skegness - this sudden burst of warm weather has got some of us Brits fooled into thinking we're on our jollies already. With temperatures said to reach the very high twenties in some parts of the country this week (please be true), who could blame us? To make that summer holiday feeling feel all the more real, we've tracked down a few of the most exotic spas and treatments in the country. Hold on to your flip-flops, we're going around the world in 80 spas! OK, five…
Thailand
Who needs to fly 5000 miles when you can find an authentic Thai massage right here in London. With venues in the City and Covent Garden, Thai Square Spa offers a range of traditional treatments and packages inspired by ancient Thai herbal remedies and rituals. Treatments like the traditional Thai facial, Thai massage or Oriental Restoration (using only premium Thai skin ranges) combined with luxury surroundings (think orchids, mosaics and flecks of gold) transport guests to a far away land of peace and serenity. We should know, we've been there, take a look at our Tried and Tested for more information.
India
Ayurveda (Sanskrit for "life-knowledge" or 'science of life') is an ancient medicinal practice originating from the Indian subcontinent. Rather than treating bodily conditions, Ayurveda combines diet, herbs, exercise, meditation, yoga, massage and physiotherapy to prevent and treat disease, by balancing the three 'doshas' (nervous system, digestive system and the movement of fluids in the body) and helping you discover your healthiest self. Ayurvedic therapy centres like the Kerala Ayurveda Centres in Bolton, Leicester and Walsall, are all about detoxification, relaxation and offering lifestyle advice. Guests can enjoy a range of treatments from herbal steam baths and massages (some with four hands) to luxury pearl, 'Shahnaz Gold' and even platinum facials. Anything goes when you're on holiday...
Bali
Mandara Spa at park Plaza, Westminster Bridge is the first Mandara Spa in the UK, and the only one in Europe. Designed to add a luxurious touch of Asia to the modern décor of the Park Plaza hotel, Mandara Spa has 700sq metres devoted to relaxation, offering guests the opportunity to truly escape to another world. Speaking of escaping, the best way to do so is with the spa's most relaxing massage: the Balinese. Dating back centuries, the Balinese massage is used to renew, strengthen and heal both body and mind though the use of 100% pure essential oils, stretching, skin rolling and palm and thumb pressure. The technique helps to relieve tension, improve blood flow, ease stress and calm the mind as well as improve the circulatory, lymphatic, muscular and nervous systems - now that's what we call multi-tasking.
Turkey
If you thought a regular bath was cleansing you've clearly never experienced a Turkish one. A Turkish Bath (or Hammam) involves sweating it out in a steam room, a full body exfoliation using a course mitt, vigorous massage, and thorough soaping using a sudsy pillow case. Native to Turkey, variations of these bath houses can now be found around the world with two of the most authentic yet luxurious right here in London: the Art Deco Porchester Spa in Queensway (the oldest bathhouse in London) and the Crystal Palace Spa. Leave your rubber duck and expectations of a relaxing soak at home and prepare for an invigorating treatment that will leave you squeaky clean.
Morocco
For many of us a summer holiday is all about getting away from the stresses and strains of everyday life and getting back to nature. What better way to do so than a mud bath. Mud baths or Rasul treatments have been used as pampering and healing treatments for years. The therapeutic properties in warm mud help draw out impurities in the body while relaxing muscles and leaving you feeling refreshed and rejuvenated. The Moroccan Rasul treatment at spa LONDON at Ironmonger Row Baths in the City is the modern day equivalent. The ancient ritual takes place in their private steam chamber and involves the application of healing muds to the body and face while a herbal steam fills the chamber. A 'warm tropical rain shower' washes off the mud and you're ready to step back out into EC1 feeling as though you've had a well-deserved break.