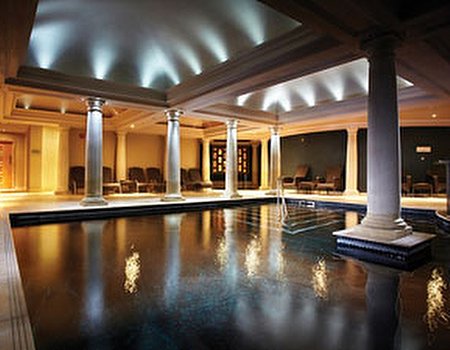 As we find ourselves in the middle of what could turn out to be the coldest March in UK history (or since 1986 anyway) a few of us here at HQ have been thinking how nice it would be to pack a bag and get away. Unfortunately we've still got a few months to go before we can start really thinking about summer holidays but as luck would have it there is a Bank Holiday on the horizon...
If your Easter plans aren't entirely taken up with planning, cooking and hiding chocolate eggs, turn your bank holiday into a mini holiday with a relaxing spa break. Or if you don't have the time, childcare for a weekend away (or you simply don't want to miss the annual egg hunt) a spa day can work just as well. Fortunately we know a great place for both…
Venue
Situated on the borders of Sussex and Surrey, Alexander House Hotel is a luxurious manor hotel set among 120 acres of private gardens and parkland so peaceful you'd never guess they're just 55 minutes from London. Once inside the 5 star boutique hotel, a Gothic corridor - complete with marble, granite and the sound of trickling water - leads guests to the stone columns and domed ceilings of the Grecian inspired spa: Utopia.
With 25 separate treatment rooms, and a couple of luxury rooms designed for two, the spa's focus is on relieving the stresses and strains of everyday life and restoring natural balance to the body and mind. Utopia believes achieving balance will "help realign your focus and melt away worries; leading you towards the happier life you desire and deserve." Sounds pretty good to us.
Treatments and facilities
The spa's decor was designed to help guests embark on a spa journey that will allow them to escape into another world. Water plays an important role in the journey, which explains why Utopia has three different pools, each with unique features, and monsoon showers in every changing suite (along with steam rooms and saunas). Other facilities include dedicated pedicure, manicure and hairdressing studios, a spa garden complete with hot spa pool and loungers, a world class brasserie, luxurious spa bedrooms and a relaxing courtyard with fire pit.
The spa offers a wealth of treatments all performed by a team of therapists who are experts in their field. Whether you're in need of a traditional massage, a bit of reflexology or facial, the therapists at Utopia will tailor spa experiences to suit your needs, creating treatments that are bespoke to you. Utopia also offers a range of different spa days and breaks that include various combinations of treatments and services at different price points.
Treat yourself
If a spa journey to another world sounds like just what you need to take you away from a miserable March, take a look at Utopia Spa's page where you can book your escape now.