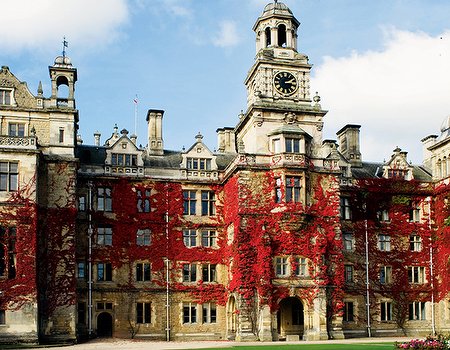 Best known for housing Robin Hood and his band of Merry Men, what no one ever told us about Sherwood Forest is that it borders a rather striking hotel and spa. Combining old world architecture with modern-day comforts, welcome to the stunning Thoresby Hall in Nottinghamshire, our spa of the week…
The spa
Situated within 30 acres of manicured gardens and parkland, Thoresby Hall Hotel is a historic Grade 1 listed house that – despite a recent restoration – maintains all its Victorian charm. Beneath the turrets, towers and balconies, the dramatic stately home also houses a distinctly modern spa. Designed exclusively for adults (sorry kids), the spa at Thoresby Hall provides a welcoming and relaxing atmosphere, and offers an impressive array of spa facilities based on the ancient ritual of bathing.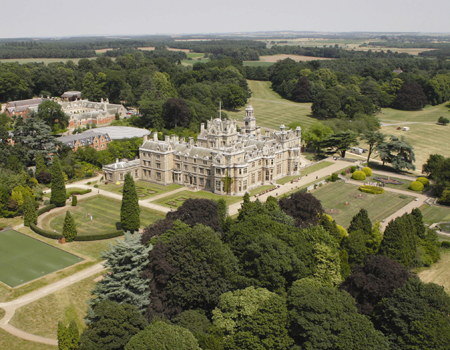 Treatments and facilities
Like a traditional Roman spa (albeit in the middle of the English countryside and the 21st century), Thoresby Hall is built around a series of heating and cooling rooms, including a hydrotherapy pool, tropical experience showers, Scandinavian samarium, Turkish steam room and an ice cave – which sounds a bit like somewhere a Disney villain might hide out, but is actually very good for respiration and general health.
When guests are feeling sufficiently warm/cool and refreshed, they can head to the newly refurbished relaxation lounge, or take a dip in the indoor pool and enjoy stunning views through the windows or (if you're good at back stroke) the glass roof. There's also a tennis court and outdoor activities including fencing, bowls and archery – the Merry Men would be proud.
The spa has 11 treatment rooms, within which guests can enjoy a range of relaxing therapies from around the world. On the varied and often exotic menu you will find everything from regenerating facials (using products from luxury spa brand Espa), to a relaxing and clarity-restoring Chakradhara ritual to a 'Muscle-mend' for men.
Thoresby Hall also offers a variety of spa days and breaks including a festive special that we imagine most people would be more than happy to find under their tree this year. For just £99 you can treat yourself or a loved one ('tis the season) to an overnight stay in this gorgeous gothic house, one treatment from a selection (including a file and polish, salt brushing and a scalp massage), a two hour spa experience, live entertainment, evening dining and breakfast the following morning.
Treat yourself
Thought going to stay in Sherwood Forest meant living as outlaws and stealing from the rich? Not anymore (or since the 18th century really). Forget folklore and treat yourself to a spa escape that is traditional yet modern, and exotic yet quintessentially English. Book treatments and getaways on Thoresby Hall's venue page now.