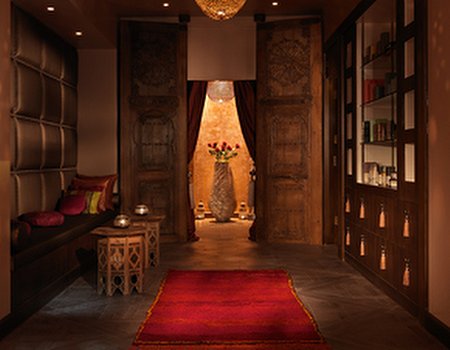 Whether you're getting over a case of holiday blues, juggling the excitement and stress of an impending trip or mourning the fact you weren't able to get away this year, it's no fun being stuck at home and wishing you were away. Exotic restaurants and al fresco cocktails might trick you into holiday mode, but the feeling is fleeting. For long-lasting relaxation and a real taste of the exotic, it takes more than a bit of Sex on the Beach – still talking cocktails of course. Fortunately, with its mix of ancient therapies, modern luxury and dedication to relaxation, The Spa in Dolphin Square has everything you need to ignite that holiday feeling. Welcome to this week's spa of the week…
The spa
Situated a stone's throw from Pimlico station, The Spa in Dolphin Square is like a corner of Morocco flanked by affluent Belgravia in London's SW1. Housed within the village-like Dolphin Square apartment complex, the spa takes its inspiration from 'the essence of Morocco and the proven benefits of cleansing and purifying'. Specialising in authentic Hammam, Rhassoul and Salt Infused Steam Rituals, the spa aims to combine ancient therapies with tailored spa experiences, maintenance and express treatments.
Treatments and facilities
A fifteen minute walk from Victoria station, this 4,000 square foot spa has five treatment rooms, two studio rooms (for the more time conscious spa-goer), relaxation lounges, a tepidarium (a sort of Roman bathroom with heated walls and floor) and even a walled courtyard.
Guests can navigate their way through the extensive treatment menu with help from a 'Spa Mentor', who will make sure you get the most from your experience. As your Mentor will inform you, the menu has been created especially for the spa by leading industry names like Aromatherapy Associates, Comfort Zone and SpaRitual and is based around the spa's four core philosophies: Cleansing & Purifying, Relaxation & Balance, Wellness & Integrated Health, Prescriptive Maintenance & Repair.
On the menu, guests will find everything from anti-ageing facials and Brazilian waxing to Arabian Scrubs and Luxury Hammam Rituals. The spa also offers a selection of spa day packages, including the traditional Cleanse, Clay and Tea for Two and somewhat less traditional (but very well-timed) Holiday Get Go package including a mani or pedi, two areas of waxing and eyebrow or eyelash treatment.
Guests are also given access to Dolphin Square's 11,000 sq ft sports and fitness club with squash courts, swimming pool, riverside tennis court and croquet lawn – ooh er!
Treat yourself
Fancy escaping the post-holiday (or no holiday) blues with a trip to magnificent Morocco? Join the club. But first, put down your passport and take a look at The Spa in Dolphin Square's page where you can book ancient rituals or modern-day manis right now.