So rumour has it us Brits are in for something of a heat wave in coming months. We know what you're thinking: "Yeah yeah, heard it all before". Well, you have a point. The majority of us have, at some point, been disappointed by over-zealous summer plans getting rained off (although a few might argue a proper English barbecue isn't complete without a few soggy buns). The solution? Make your summer plans somewhere that delivers come rain or shine. Somewhere like The Spa at The Mere Golf Resort and Spa, this week's spa of the week…
The spa
Situated within 150 acres of lush Cheshire countryside, The Mere Golf Resort and Spa is a traditional redbrick Victorian manor that's easily accessible from Liverpool, Chester and Manchester. Like all good Victorian manor houses, The Mere has a separate stable that, after a couple of updates over the last hundred or so years, has been transformed into the resort's luxury spa, winner of the Good Spa Guide's coveted 'Five Bubbles'.
Other modern updates include a hi-tech fitness centre and state-of-the-art thermal facilities (complete with underfloor heating, Roman caldarium and full length windows overlooking the gardens), which - combined with original features - creates an atmosphere that is at once enchantingly rural, comfortable and stylish. Outdoor attractions include an 18-hole golf course, lush parkland and the Mere Lake (from which the resort takes its name).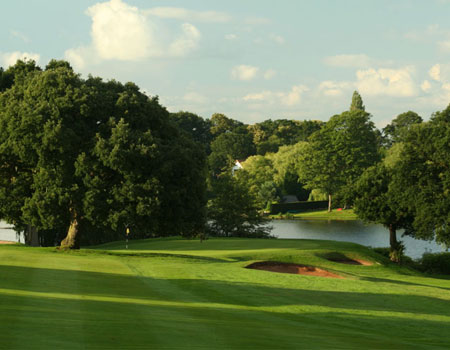 Treatments and facilities
Make your way through The Mere's original Victorian brick archway and towards the transformed stable and you'll soon find some of the manor's less traditional features. English summer living up to its reputation? Warm up in the spa's thermal zone and drift away to somewhere a little more exotic with ancient treatments in the Rasul room.
If you do happen to visit mid-heatwave (again, we'll believe it when we see it), guests can cool off under the experience showers, ice fountain or outdoor pool, or catch some rays with a stroll around the stunning grounds, or a spot of tennis in the outdoor courts.
Other relaxing facilities include a salt infusion room, 20 metre indoor pool, sauna, hydrotherapy pool and seven treatment rooms including one luxury dual room. Within the treatment rooms, guests can enjoy a variety of treatments using products from brands like Aromatherapy Associates and BABOR. There are maintenance services, like waxing and manicures, as well as more indulgent treats like the Rasul and mud treatment or Carita Perfect Gold Sculpting Facial.
After a treatment, guests can unwind with a drink and a magazine on a heated lounger on spa's relaxation terrace, or head to the Spa Lounge and Bar for a light (but delicious) bite.
Treat Yourself
Whether you're into brisk countryside walks, pampering or outdoor sports, The Spa at The Mere really does have something for everyone, including a spa day for everyone. If you're a mum-to-be, a loved up (though perhaps stressed out) couple, or mother and daughter seeking some quality time, The Spa at The Mere has a spa experience to suit. Take a look at the venue page where you can book treats and treatments right now.