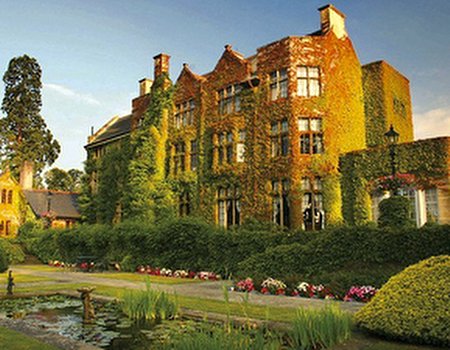 After a few days of sunshine here in the UK, it would appear that spring is finally ready to rear it's glorious head – famous last words we know. Here at Wahanda we're getting very excited at the thought of warmer temperatures, longer evenings and finally hanging up our winter coat so we thought we'd celebrate with a seasonal spa of the week. With a treatment menu built around the changing seasons (Summer Salutation Facial anyone?), acres of gorgeous gardens and a selection of outdoor pools and hot tubs, we can't think of a better place to welcome the new season than the five star Spa at Pennyhill Park Hotel.
Venue
Surrounded by 123 acres of parkland, Pennyhill Park Hotel is situated in the heart of Surrey, a mere 45 minute drive from the capital. Stroll across the lawns and step inside the luxury country house and you will discover an astonishing 45,000 sq ft devoted entirely to relaxation. Home to an impressive eight different pools, the spa also features a Thermal Heaven heat experience, a golf course and 21 private treatment rooms.
At Pennyhill Park Spa the highly trained team believe that a spa experience should be a unique and indulgent journey, tailor-made to individual guests. This ethos is reflected in an extensive spa menu made up of treatments that take into consideration the the various ways in which lifestyle, environment and seasonal change affect the body.
Treatments and facilities
When it comes to facilities saying Pennyhill Park has it all doesn't quite cover it. From the state of the art Technogym to Herbal Saunas and 'Experience Showers' fitted with different nozzles and temperatures (the massaging 'Falls of the Spa' sounds particularly tempting), this spa goes above and beyond what a guest might expect. Fancy a dip? Dive right in to one of Pennyhill's eight pools including a plunge pool, a hydrotherapy pool and a 25m Ballroom Pool fitted with fibre optic lighting and underwater music.
After a dip, guests can dry off and enter the Thermal Heaven experience. Made up of eleven rooms each differing in temperature, humidity and aroma, Thermal Heaven raises the body's temperature, stimulating the pores and helping to eliminate toxins. Once you've sweatted it out, head to the spa's ice cave - complete with warmed floor, sparkling walls and ice fountain. Pretty cool huh?
Thermal Heaven isn't the only place spa visitors will experience hot and cold treatments. With a spa menu designed to reflect the changing seasons (and using only the best industry products) the treatments on offer at Pennyhill Park are as unique and luxurious as the facilities. Alongside a range of traditional treatments including waxing, eyebrow shaping and massage, the spa offers a range of seasonal specific treatments. As the weather continues to warm up (fingers crossed) visitors to the spa will enjoy treatments that reflect spring-like feelings of 'renewed vigour and energy'. The spring/summer menu focuses on rejuvenating, restoring, energising and most importantly, getting you holiday-ready. The 60 minute Beach Prep Radiance Polish sounds like just what we need to shed winter skin once and for all.
Treat yourself
If your beauty regime in need of a seasonal update or your not feeling the joys of spring just yet take a look at The Spa at Pennyhill Park Hotel's page where you can book treatments and relaxing escapes now.