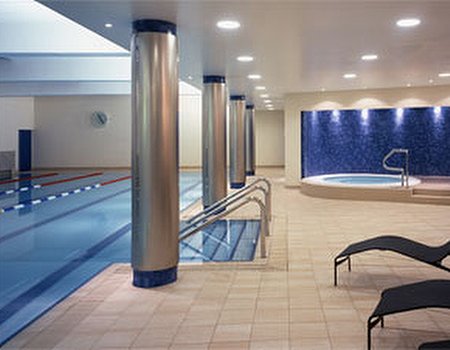 The modern world is pretty impressive isn't it? We've got voice-controlled mobile phones, cars with built in sat-nav and a whole world of social media that means we don't even have to talk to each other if we don't want to. All in all, we're pretty spoiled, and like any spoiled child every now and then we get the urge to throw our fancy toys out of our hi-tech pram and scream.
You see, as impressive as all this technology is, sometimes the modern world can get a bit hectic. Some days we'd trade in our wi-fi and hair straighteners for a bit of peace and quiet. OK, maybe we wouldn't trade the hair straighteners, but luckily enough we don't have to because the good people at The Laboratory Spa and Health Club have created a relaxing environment where we can take refuge from the stresses and strains of the modern world.
The spa
Situated in North London's Muswell Hill, The Laboratory Spa and Health Club is only a few miles from the City of London yet somehow feels worlds away. Designed as a sanctuary away from city life, the spa offers everything you could wish for when it comes to relaxation – no matter how spoiled you are. Among the calm, stylish surroundings guests will find multiple treatment rooms, twin spa baths, Scandinavian saunas, marble steam rooms, a poolside relaxation area and a team of expert therapists.
Treatments and facilities
To aid your escape from modern day pressures, the Laboratory offers a range of holistic therapies including Reiki, Hopi ear candling and an Indian head massage. Or, if you're not quite ready to abandon your new world customs, the spa also offers an extensive selection of more familiar beauty treatments including waxing and tanning.
When it comes to treatments at the Laboratory it's probably quicker to list what they don't offer. The Laboratory Spa and Health Club has beauty and relaxation covered from top to toe and facilities including a fully equipped gym, 25m pool (cleansed with the latest UV light technology) and even a juice bar.
Treat yourself
Fancy escaping the hustle and bustle of your daily life? Take advantage of The Laboratory's Spa Day Escape for two deal. Double the relaxation, double the fun and half the price. It doesn't get more stress-free than that.