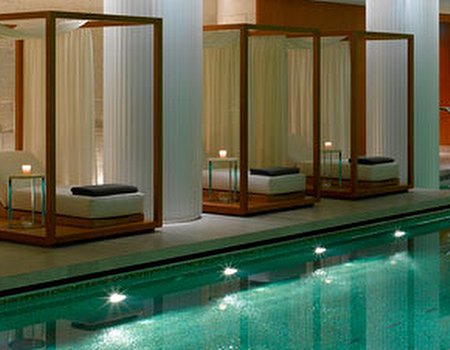 As New York Fashion Week draws to a close it's almost time for the world to turn its attention to our fair capital. That's right, London Fashion Week is upon us, which means it's time to dig out your designer finest, apply your boldest lipstick, don your biggest shades and hail a cab to central London – well, if you're Kate Moss it does. Whether you have a seat reserved on the front row or plan to live vicariously through the Twitter storm that's sure to emanate from it, there's really only one place to get ready for a week of designer fashion, hair and beauty and that's our favourite designer spa, Bulgari. Welcome to this week's LFW inspired spa of the week…
The spa
Situated in the heart of opulent Knightsbridge, The Bulgari Spa at Bulgari Hotel is one of the most innovative and luxurious spas in the world - and the perfect escape when a day flitting between Harrods and Harvey Nicks proves too much. Spanning two floors of the lavish hotel, everything about the spa aims to convey the excitement and glamour of the world-famous brand. With walls adorned with onyx, oak, Vicenza stone and Italian glass mosaics, and every element designed to 'enhance guests' health, wellbeing and beauty' we think they've done a pretty good job.
Treatments and facilities
Already one of the biggest names in jewellery and handbags, the Bulgari Spa proves the brand know a thing or two about pampering and relaxation too, with an extensive treatment menu boasting everything from the humble bikini wax to a selection of massages, body rituals and the decadent sounding Oxygen Therapy and Chakra Balancing Body Treatment.
Facilities include a state of the art fitness centre, a two-person green onyx spa suite, Turkish baths, 11 treatment rooms and a relaxation room complete with vertical fireplace. The piece de resistance, however, has to be the pool. Lined with green and gold leaf mosaic tiles, the 25m swimming pool is surrounded by sandblasted Vicenza stone and relaxing cabanas. If swimming's not your idea of relaxation, you can escape to the gold leaf Vitality Pool and relax beneath its waterfall, while massaging jets of air and re-mineralising water cleanse and detoxify the skin. Bliss.
One of the key features of the Bulgari Spa is its space – a feature that is made the most of by the presence of only a small number of guests at any time. Ideal for high profile visitors, or anyone in need of a little me-time, Bulgari guests can enjoy treatments without running into fellow spa-goers – celebrity or not. If, when visiting the exclusive spa, your inner A-lister decides it wants a little pampering, it has to be one of Bulgari's signature 'thermal journeys'. Begin with a visit to the sauna and steam room before cooling off with fresh ice from the fountain and immersing yourself beneath the cooling, cleansing showers to soothe muscles and calm the mind. Chilly in places, but an experience like nothing else.
Treat yourself
With prices to rival some of their most coveted accessories, a trip to the Bulgari spa certainly is a treat, but whether it's a birthday, the end of a particularly hard week, or you just fancy a bit of celeb spotting, it's well worth it. Besides, it's the only place to be caught dead in a dressing gown during Fashion Week. Take a look at Bulgari's page where you can book appointments or buy eVouchers for treatments now.