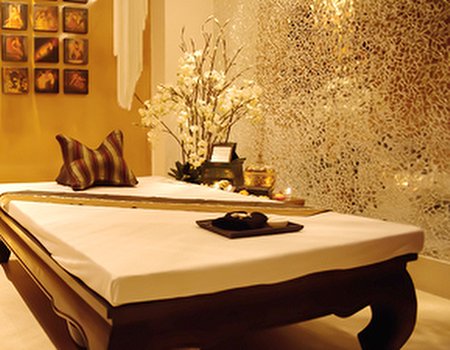 There's nothing like a long, sunny weekend to make going back to work seem that little bit harder. If you're struggling to get back into the swing of things after getting a taste of summer over the weekend take comfort in the knowledge that you're not alone. The 'back to work' blues will be affecting people all over the country this week. Thank goodness there are a few places around the UK set up specifically to deal with such cases. Thai Square Spa City, for example, opened earlier this year to provide a nearby escape for overworked city dwellers. Sound like you? Read on...
The spa
Following on from the success of sister spa Thai Square Spa in Covent Garden, Thai Square Spa City opened in January this year in the City of London. A minute's walk from Aldgate station in EC3, Thai Square Spa is tucked away behind a busy main road – the definition of a 'hidden gem'.
Once inside one of the friendly staff members will guide you downstairs to the spa area which can feel a little maze-like but rest assured the rooms themselves are actually very spacious. They're also beautifully decorated with mosaic walls, gentle lighting, an abundance of orchids and delicate touches of gold everywhere.
Treatments and facilities
The spa has four treatment rooms (including two Thai rooms), a relaxation area and separate male and female changing rooms. Each treatment room is ornately decorated and fitted with a sliding partition door that either works to block out the outside world and everyone else in it (if you're having one of those days) or can be pulled open so you can share the experience with one or two friends.
As well as a few traditional spa treatments like manicures, pedicures, waxing and lash tinting, Thai Square Spa offers a range of indulgent treatments and full or half day spa packages inspired by ancient Thai herbal remedies and rituals. They use only premium Thai herbal skin ranges in all treatments and, as an added touch of luxury, all 30 minute treatments begin with a cleansing, floral foot soak.
For something more indulgent try one of the royal treatments which date back to the late 19th century when Thailand was known as the Kingdom of Siam and court ladies used indigenous ingredients to create beauty treatments. The treatment menu also boasts a selection of body treatments including exotic scrubs and botanical wraps as well as luxury facial treatments, spicy hand and foot treatments (using cinnamon and black pepper) and hair remedies that stimulate the follicles and relax the body.
The most popular treatments at Thai Square are, understandably, the Thai Herbal Healer and Essential Body Glow. The Herbal Healer, a 90 minute full body massage, uses a hot compress and blend of aromatic oils, Thai herbs and spices to soothe muscle tension and stiffness. Equally relaxing and just as popular is the two hour journey: Essential Body Glow. The luxurious treatment promises to get you back to your glorious self by cleansing the body, massaging it with Thai Oil and cocooning it in a deeply nourishing body mask. Guests emerge feeling revived and rejuvenated like a radiant and stress-free butterfly.
Treat yourself
Did the long weekend give you a taste for relaxation? Are post-bank-holiday blues getting you down? Take a look at Thai Square Spa City's page where you can book a lunch break escape now. Just don't forget to go back…