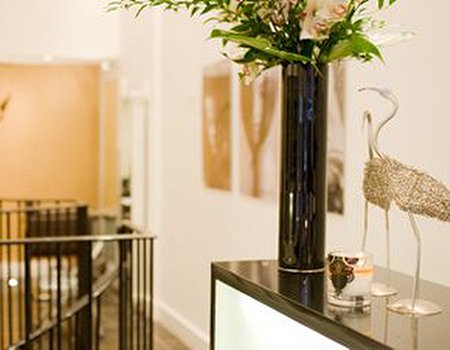 As anyone who has ever been nervous about attending a dentist's, doctor's or waxing appointment will know, a bright sticker and a lolly pop generally make everything OK. Anyone who (like this writer) dreads a haircut might be interested to hear that at central London salon Sergio Giannasso, they operate a similar policy. All about 'Italian elegance with a London fashion twist', the staff at Sergio's offer their guests (nervous or not) a stylish setting, fabulous customer service and a slice of Grandma Giannasso's delicious homemade tiramisu. Don't mind if we do…
The salon
Nestled among stylish cafes, antique dealers and a number of theatres Sergio Giannasso is situated on St Martin's Lane in Covent Garden. This boutique salon is chic, modern and home to a few luxurious touches including throne-like chairs, fresh flowers and decorative birds. Sergio Giannasso (the man) is equally chic, very entertaining and very passionate about what he does. With more than 50 years combined experience, the rest of the team have trained with some of the best names in the hair industry and are now on a mission to make their customers look and feel fabulous. They vow to treat each client like 'our celebrity', taking time to find out about you and styling hair to not only enhance features, but reflect personality.
Treatments and facilities
As well as whipping up one of the best tiramisus this side of the Mediterranean (trust us, we've tried it), Sergio Giannasso offers its customers a range of luxury treatments for hair from cuts and consultations to a Luxe Blow Dry (which promises '12 weeks of fabulous' thanks to a combination of Moroccan Oil and keratin) and Balayage (freehand) highlights.
Looking for a life-changing makeover? You've come to the right place. Partners with Great Lengths (world leaders in human hair extensions), the salon offers hair extensions to transform your locks in a whopping 55 different colours (including 17 types of blonde, pastel and jewel shades). To complete your transformation, book in for a makeup session with the charming Sergio himself who is a makeup artist as well as creative director, colourist and expert Tiramisu-maker. The Special Night Out package is one of the salon's signature services, perfect for special occasions like birthdays, weddings... or maybe just a Wednesday morning.
Treat yourself
Whether it's the customer service, the cuts or the cake, there's something about Sergio Giannasso's salon that keeps people coming back. Need a new look but don't know where to start? Take a look at the Sergio Giannasso page where you can book appointments right now.