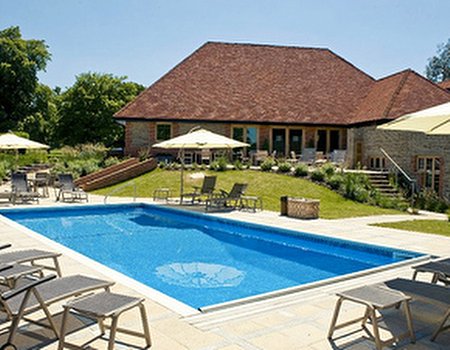 Chilled lemonade, an ice-cold beer or refreshing r-r-rum punch (it's good enough for Mary Poppins) - whatever your poison this summer, if the heat has you feeling parched or over-heated there's only one thing that will truly quench your thirst: a tall drink of water. What could be more refreshing than a bit of H2O on a hot summer's day? Maybe a bit of PH2O… Home to not one, but two luxurious swimming pools, PH2O in West Sussex is not only our spa of the week, but one of the most inviting places to relax and refresh yourself this summer. Go on dive in, you know you want to…
The spa
Park House Hotel is a luxury English Country house hotel situated in the heart of the South Downs National Park in West Sussex. Set among ten acres of picturesque grounds in the village of Bepton, this family-owned rural retreat might look small, but it has everything a guest could want to truly get away from it all including a lavish spa that is just as plush as its gorgeous green surroundings. The name might sound complicated and scientific, but PH2O offers its guests a straightforward formula for pure relaxation. Simply book in, check in and take a load off your mind.
Treatments and facilities
For many, discovering a retreat in an 'area of outstanding natural beauty' would be enough to soothe stresses and reinvigorate the soul, but if you find you need a little more to fully relax you're bound to find it among PH2O's state-of-the-art facilities and rich and varied treatment menu.
So how does a relatively small spa manage to accommodate two swimming pools (one of them 15m in length)? They put one of them outside and keep it open and heated throughout the summer with sun loungers and parasols surrounding its brilliant blue waters. Inside, the pool is somewhat more decorative, with turquoise tiles, underwater lighting and a decadent marble entry shower.
Other facilities at the spa include a Jacuzzi, steam room, sauna, gym and fitness studio (with personal trainers on request), two grass tennis courts (open in summer), a six-hole golf course, a terrace seating area, relaxation rooms and even a croquet lawn. Phew.
The spa's extensive treatment menu offers a range of services for the face and body using products by British beauty brand ESPA, nail treatments from OPI and more massages than you can shake a hot lava shell at (not as dangerous at it sounds). More adventurous guests might be tempted by Montezuma's Chocolate Body Sensation, an exfoliating body cocoon while others can opt for one of PH2O's pampering packages including relaxing days, overnight stays and afternoon teas.
Treat yourself
When the sun comes out and things get a bit crowded at your local watering hole, there's only one thing for it: head for the hills, or – in this case – the downs. With plenty of shade, pools of H2O, and tranquil views and treatments aplenty, this spa is one of the best places to chill out and keep cool this summer. Take a look at PH2O's page where for a limited time you can book an exclusive summer spa day for just £50.