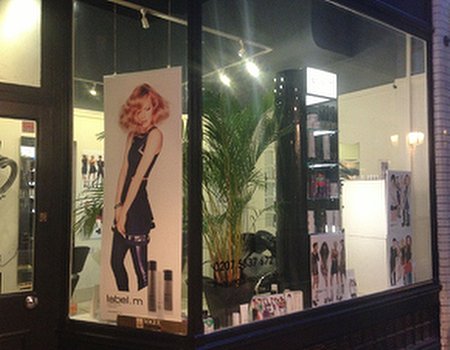 Beautiful weather, beautiful food and beautiful people. Whether you're looking to fall in love, eat handsomely or sightsee under the sun this summer, Italy has it all. It's also home to one of the major fashion capitals of the world, Milan, which is, presumably, where the Italians get their flair for style. Much as we'd love to be feasting in Florence or romancing in Rome, summer in London is pretty great too. And if you feel like you're missing that Mediterranean magic, there are plenty of places you can find it. Massimo Giglio in the City, for example. This little corner of London embodies that famous Italian spirit, style and passion…for good hairdressing.
The venue
Located just off Fleet Street, Massimo Giglio is not your typical central London Salon. Unlike many larger venues with bright lights, loud music and bustling staff, this unique salon is small, comparatively quiet and bursting with charm. Son of Giovanni, one of the most iconic hairdressers in 1980's Naples, Massimo Giglio began his training at just 12 years old. Ten years later he competed for Toni and Guy in Rome and was given the opportunity to bring his passion for hairdressing to London. Styling some of the most famous hair in the capital, he quickly moved up to Style Director before moving on to open his own salon.
Treatments and facilities
Named after the man himself and bearing the tagline "fanatical about HAIR!" Massimo Giglio (the salon) is the result of Giglio's years of training, natural ability and personal fanaticism - a combination his customers see reflected in their cuts.
Committed to providing the best service in the industry, the intimate surroundings of this small but perfectly formed salon offer the perfect setting for the personal attention this requires. The staff at Massimo Giglio create unique cuts for their customers by taking into account what they want, the styles that best suit them and combining with a little creative flair.
The most popular treatments on offer include a 45-minute cut and blow-dry, Highlights and a NanoKeratin Brazilian treatment – a three hour straightening and repair treatment that will keep hair smooth and glossy for months.
The treatment menu also offers a hair up service with a style director for those special occasions, a 30-minute blow-dry and a 30-minute Gent's cut and blow-dry – yes Massimo's fanatical about men's hair too.
Treat yourself
Is your hair in need of some TLC or a seasonal update to go with your summer wardrobe? Maybe you're just after a bit of Italian passion…for hair. Take a look at Massimo Giglio's page where you can book appointments and satisfy your hair needs now.