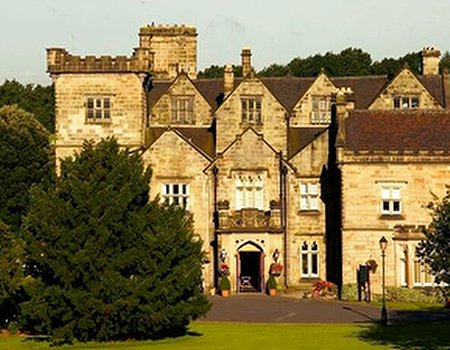 After waking up this morning, straightening our hair, grabbing an espresso from the coffee machine and listening to our meditation app on the tube, we though to ourselves: modern life is pretty great. However, as anyone who has ever been woken up in the middle of the night by a work-related email will know, all this technology can also make life pretty stressful and 'getting away from it all' seem impossible.
Some people might be able to switch off with a few hours in front of the TV but for many of us true relaxation means leaving the modern world behind. Fancy a few nights getting back to nature in your sleeping bag? Us neither. When we want to escape the modern world's fast-pace we want to bring a few of its luxuries with us. Fortunately deep in the heart of the English countryside there is a place that combines nature, history and Jacuzzis: The Marriott Breadsall Priory Hotel & Country Club.
The spa
Situated amid 400 acres of idyllic Derbyshire parkland, the tranquil surroundings of the Marriott Breadsall Priory Hotel provide the perfect setting for thorough relaxation. The stately mansion dates back to 1260 when it was a priory offering hospitality and shelter to weary travellers. 700 years later, the legacy lives on. Now a four star hotel, Breadsall Priory retains its 13th century structure while showing the influence of its various owners over the centuries (including, at one point, the Darwin family). With a few Elizabethan interiors, the odd touch of Victorian gothic and recent additions including an indoor pool, spa and two plush golf courses, the Breadsall Priory is a sight to behold.
Treatments and facilities
If acres of parkland doesn't sound quite peaceful enough, you will be pleased to hear that the newly refurbished spa is located in it's own quiet courtyard within the hotel grounds. Once inside, guests will find an array of services designed especially to revive the spirit and promote rejuvenation using only the best products available from names like Decleor, CACI, Jessica and Bare Escentuals.
Treatments on offer include a wide variety of facials, massages, manicures, pedicures as well as an impressive selection of holistic treatments including aromatherapy, hopi ear candling, reflexology and Indian head massage. The highly qualified team at the Priory Retreat prides itself on a dedication to service that includes spending time with individual guests before deciding on the perfect treatment combinations that will leave them feeling relaxed, refreshed and harmonious long after leaving.
Other facilities include a swimming pool, sauna, steam room, jacuzzi, gym, tennis court and an exercise studio offering a range of classes from Tai Chi to Hydro-fit. To take full advantage of the spa's location, treatments and facilities will take a few hours. Fortunately Breadsall Priory have a selection of spa days on offer including pamper days for two, a Just for Men package and, our personal favourite, the Ultimate Retreat Day - perfect for anyone in need of some serious me-time. Hint hint.
Treat yourself
Fancy getting away from the demands of modernity? Well before you switch off your computer and run into the wild take a look at Breadsall Priory's page where you can book appointments or buy vouchers now.