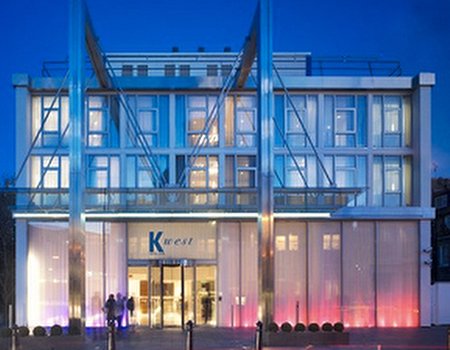 We're finally out of January, but it seems we've brought the grey skies and cold winds with us. Spring still seems far away, and summer even further, but here at Wahanda we could really do with a relaxing break somewhere warm, peaceful and a little bit exotic.
Unfortunately, with busy schedules, plans to save money and no private jet to call our own, it's dawned on us that we might need to find a more feasible way to escape winter in the UK – if only for a short while. We need a city retreat that guarantees guests the same standard of treatment and level of relaxation as some of the most renowned spas across the globe, without the eight hour flight. Well look what we've found. K Spa at K West Hotel offers its guests just that…
The spa
Shepherd's Bush might be better known as the home of London's first Westfield Shopping Centre, but a short walk from the station, sits one of the capital's most stylish hotel spas. Winner of the 2011 World Luxury Spa Awards "Best Luxury Hotel Spa, UK", it is K Spa's aim to provide guests with an attainable city alternative to the dream spa destinations in locations like Bali, Thailand and California. With a skilled team, a varied and exotic treatment menu and luxury facilities including London's first Snow Paradise (more on that later), a trip to K Spa will make you feel like you're a thousand miles away – without the jet lag.
Treatments and facilities
A key part of any treatment journey is the spa's 'heat and ice ethos' which involves clients alternating between steamy and icy environments - the change in temperatures working to stimulate circulation and benefit the immune system. In keeping with this Ethos, the spa's main attraction is its Snow Paradise. Kept at -15 degrees and reminiscent of a snow drift, the Snow Paradise was developed by German Spa specialists as a unique Finnish experience.
After chilling out in there, guests can enjoy the benefits of the spa's other state-of-the-art facilities including: a Scandinavian sauna and steam room, aroma scented Sanarium, boutique fitness club, hydrotherapy pool (set underneath a ceiling of twinkling lights), chill areas decorated with green and gold mosaics, and even a Sun Meadow room designed to offer gentle light therapy to relieve the symptoms of Seasonal Affective Disorder.
The spa's signature journeys begin with a consultation with a therapist who then creates a personalized treatment based on a guest's individual needs and preferences. Other treatments range from de-stressing massages to the indulgent Mother of Pearl: face and body envelopment, and use only the most luxurious products from the likes of Aromatherapy Associates, Russie Blanche and Ytsara.
Treat yourself
Need a little get away but run out of air miles? Escape from it all without the help of your passport and book yourself in for a restorative spa break or treatment. Better yet, if you fancy bringing someone along for the journey you can take advantage of K Spa's fabulous Spa Day for Two Including Lunch deal which is now 50% off.