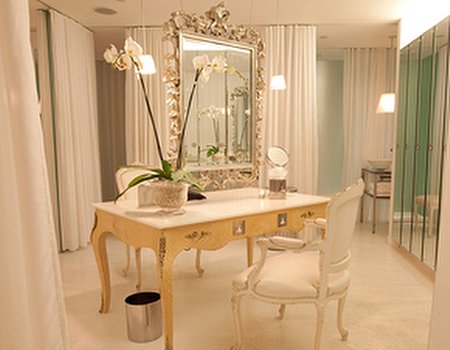 When someone describes a spa experience as 'heavenly', we wouldn't normally take the review literally. We assume they mean they enjoyed a relaxing treatment in a stylish and comfortable environment, not that they'd been through the pearly gates, lulled by the sounds of angels singing. For guests of Agua at the Sanderson Hotel, however, the distinction is not so clear. With miles of floating white curtains, immaculate all-white treatment rooms and a dazzling array of ancient and modern treatments, Agua takes the idea of heavenly treatments one step further….
The spa
Situated in the heart of London's west end, Agua describes itself as an 'urban sanctuary'; 10,000 square feet dedicated to tranquility and relaxation where guests can forget the world outside. The pure white décor creates a peaceful, 'cloud-like' atmosphere within which ancient eastern healing philosophies meet modern day needs. Built in the 1950s, the Sanderson is a five-star hotel that was transformed by French designer and architect Phillippe Starck into a 'surreal Cocteau-like dream world' that blends extravagance with simplicity creating a whole new kind of luxury.
Treatments and facilities
Home to 14 all-white treatment rooms, a chill-out zone and meditation beds, Agua is all about relaxing and indulging the mind body and soul. To help guests leave it all behind, Agua offers luxurious treatments from the likes of Jurlique, Natura Bissé and Eve Lom as well as Agua signature rituals and packages.
Guests can choose from an array of treatments including luxury facials, manicures and waxing as well as a varied and exotic selection of body treatments ranging from the Natura Bissé Diamond Body Experience (using genuine diamond powder to boost positive energy and reduce stress) to the comparatively modest (but equally relaxing) Milk and Honey hydrating massage.
Other facilities include a restaurant by Zac Pellaccio, steam room, gym (with a team of personal trainers under instruction of fat loss and fitness expert Jamie Baird), a bathhouse and landscaped interior courtyard garden. To make the most of all the spa has to offer, the Agua Exclusive Spa Day allows guests to choose from one 55 minute facial treatment and one 55 minute massage treatment before exploring the state-of-the-art facilities at their own pace. Or, for the truly young at heart, the Mad Hatter's Tea in the Suka Garden Terrace is the most delightful and delicious way to indulge with two treatments, full access to facilities and a one hour tea party complete with some of the most curious looking cakes you've ever seen...
Treat yourself
Whether you feel like escaping down the rabbit hole or up into the clouds, Take a look at Agua at Sanderson's page and get away from it all without even leaving the city. Curiouser and curiouser...