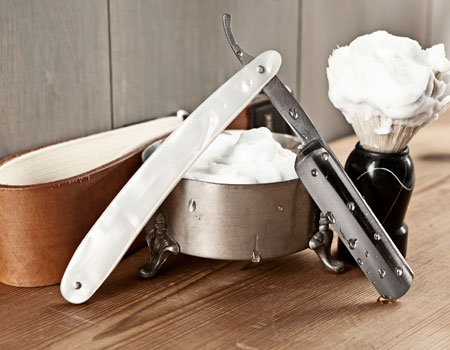 If you have a charitable fellow in your life who has been doing his bit this past month to raise money and awareness for men's health, you've probably been looking forward to this weekend for oh, about 29 days now. Well his perseverance (and your patience) is about to pay off, as this Saturday 30th November marks the end of Movember - and your inevitable 'tash rash'. A cause for celebration we're sure you'll agree, and the perfect opportunity for some male pampering. Here are our top three post-Movember rewards…
Wet shave
Worried the 'Mo Bro' in your life has plans to keep (and grow) the hairy new addition to his face? While we agree there are some Johnny Depp types out there who can pull off a goatee, 'tache and indeed full beard, unfortunately for most this is not the case. Let him know gently by treating him to a luxury wet shave at one of our recommended men's shaving establishments. After hot towels, exfoliation, lubrication and moisturisation he'll emerge feeling (if not looking) like James Bond.
Massage
If the weight of all that extra facial hair has been causing him discomfort or affecting his posture, get him to a chiropractor, stat! Only joking, reward his valiant (and charitable) effort by booking him in for with a muscle soothing massage. Better yet, find one for both of you among our treats for two. Hey, Mo Sistas - the official term coined by the people behind the movement (mo-vement?) for any woman supporting a Mo Bro - deserve a reward too.
Facial
After 30 days of itchy, irritated skin, followed (no doubt) by a bout of razor burn, now is the perfect excuse for a men's facial. Just like an ordinary facial (only a lot more manly) a men's facial will usually begin with a quick assessment of skin type before continuing with a combination of cleansing, toning, masking and moisturised tailored to his individual needs which, in this case, will presumably focus on the upper lip area.
If the men in your life haven't been taking part in Movember, but you still think they deserve a pampering reward this December, take a look at our range of luxury (but suitably macho) Christmas gifts for him.
Congrats to all you successful 'Mo Bros'!