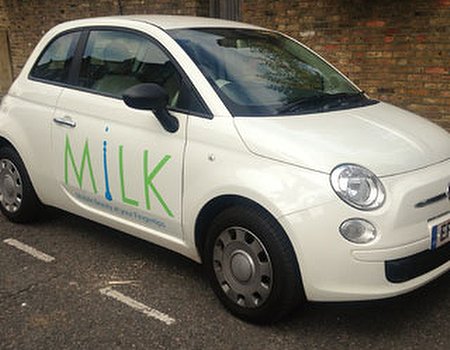 When MILK Mobile Beauty stopped by Wahanda Towers a few weeks ago to demonstrate their beauty-on-wheels services and give our hard-working hands a well deserved manicure (hey, typing is tiring), we were so impressed with the experience we couldn't wait to A) share it with the world and B) invite the team into our homes for tea and maybe a quick pedicure one weekend.
The salon
With bases in north and east London, MILK is a mobile beauty service that provides high quality treatments including waxing, facials, nails and massages to homes and offices in the capital. As well as a highly trained therapist, MILK provide all the candles and music required to transform board rooms and living rooms into places of utter relaxation. When they came to visit us their 'salon' was in fact a far more relaxing version of our very own meeting room and breakfast bar.
The Treatment
MILK treated a lucky few at Wahanda Towers (who we selected, if you're interested, according to joke-telling ability) to an Any Time Milk Manicure. With a temporary nail bar set up, we were summoned to take a welcome break from our desk (20-30 minutes depending on the length of nails and state of cuticles).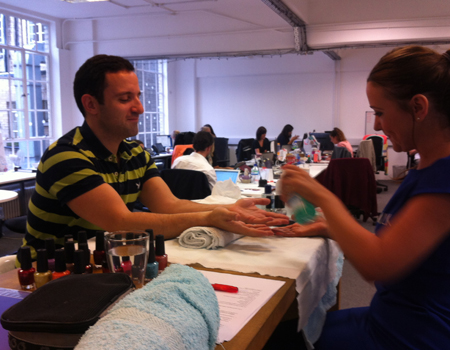 Our Simon having an in-office MAN-icure
An Any Time MILK Manicure can be customised to suit your nail needs. Beginning with a shape and polish you can add services including gel varnish, hand and arm exfoliation, hand and arm massage and even an Indian Head Massage. Keen to get back to our desks and back to work (sort of) we each opted for a standard manicure without any trimmings.
After discussing the shape and style we were after, the treatment began with a bit of tidying up, filing nails to a uniform shape and getting rid of unsightly cuticles. Next we were asked to select a shade from the array of OPI polishes laid out in (what used to be) our office kitchen.
With a colour selected, our therapist got to work with a base coat, chatting throughout, ensuring the atmosphere at the pop up nail bar was relaxed yet professional – not to say it isn't usually like this on a Friday at HQ... After two coats of colour (no more than ten or so minutes of careful and precise painting) the manicure was finished with a topcoat. Our nails transformed, it was time to give up our place to the next colleague in line, return to our desk and try not to smudge.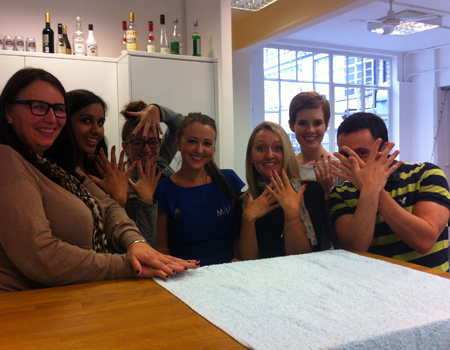 A very happy Wahanda team. Thanks MILK!
The results
In a nutshell, the results were 70 flawless nails and 7 very happy Wahanda employees. We loved having MILK pay us a visit and think it's a really effective way to brighten up the occasional Friday afternoon and reward a hard-working team – hint hint.
The nails themselves stayed chip-free for about a week and the atmosphere in the office was cheery until home time. We're all very keen to try out MILK's other services and think at-home massages and facials are a great idea for girly afternoons, sophisticated hen dos and, well Saturdays in general.