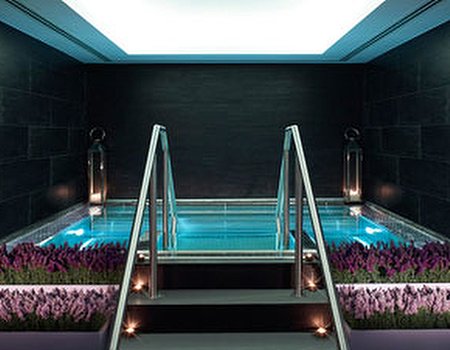 The weekend is almost here and after a long, grey week, its timing couldn't be better. Unfortunately temperatures look set to continue to drop, meaning the season of afternoon picnics and impromptu barbecues is officially over - sob. While there is a small part of us (ok a big part) that looks forward to the months of Saturday nights snuggled in front of Strictly, we know that we can't spend the whole weekend under a blanket (not until January anyway). In preparation for the upcoming weather we've found the top ten places to while away a cold day in comfort and style. Here are our top five for winter weekends…
K Spa
A short walk from Shepherd's Bush station, sits one of the capital's most stylish hotel spas. K Spa at K West Hotel aims to provide guests with an attainable city alternative to the dream spa destinations in locations like Bali, Thailand and California. With an exotic treatment menu, a focus on 'heat and ice' experiences and luxury facilities (including London's first Snow Paradise and a Sun Meadow room built to relieve the symptoms of Seasonal Affective Disorder) a trip to K Spa will make you feel like you're a thousand miles away and still have you home in time for your Saturday night viewing.
Four seasons
Nothing lifts the spirits like a good view, and they don't come much better than the one from the 10th-floor of the Four Seasons Hotel in Park Lane, which just happens to be where lucky guests will find the luxury hotel's rooftop spa. As well as its 360-degree view of the capital, the spa has nine treatment rooms (each with an individual relaxation pod), a luxury double suite, sky lit vitality pools, and saunas with floor-to-ceiling windows. Winter blues? Not at this altitude.
So SPA
What better way to escape a dreary day in London than a quick trip to Paris, or at least the French–inspired So SPA at Sofitel London. Despite a very central location (a stone's throw from Piccadilly), So SPA's aim is to help guests escape the city via a combination of therapies and treatments from around the world and the latest in French cosmetology. Inside the grade II listed building, guests will find treatments from beauty experts Carita, Cinq Mondes and Mama Mio (perfect for any mums-to-be) as well as a few uniquely touches of luxury including a spa butler and spa menu inspired by French gastronomy. The "Martini and Manicure" makes for a great apéritif. Bon appetit!
May Fair Spa
Located within the iconic, five-star Mayfair Hotel, the May Fair Spa is just as luxurious as you might expect. An elegant sanctuary 'far from the whirl of central London', this spa is all about making the most of your valuable time by turning it into results via specially tailored experiences. All treatments are designed to help 'put time on hold', take you away from everyday life and carefully assess and respond to your health and beauty needs. We've been browsing the treatment menu and think that we could probably solve most of our needs with a mini spa day or Dead Sea Mud Massage. Bliss.
Chuan Spa at The Langham London
Situated, on Regent Street, the Chuan Spa takes it's name from the Chinese word for 'flowing water' which Chinese culture believes to be the source of life and balance. A haven in the heart of the city, Chuan Spa offers guests a wealth of treatments based on the value of traditional Chinese medicine. After a spot of cupping or moxibustion guests can take a dip in the vitality pool, or unwind in the stunning relaxation area, VIP couple suite (AKA 'The Spirit Room') or London's first salt-sauna. We feel better already.

Want more luxury London spas? Take a look at our top ten favourites but be warned, the mere site of them has been known to cause serious spa-envy…