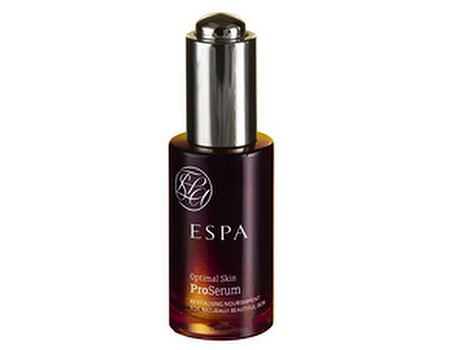 Earlier this week Wahanda went along to the Bulgari Spa at Bulgari Hotel in Knightsbridge to try out luxury spa brand ESPA's latest launch: Optimal Skin ProSerum.
What is it?
A cross between a serum and a face treatment, the ProSerum combines active ingredients (including turmeric, white lupin and sunflower), with frangipani, rose and patchouli essential oils to help nourish and strengthen skin.
The formula was designed for use day and night (although how much and how often depends on skin type) to brighten and even skin tone, enhance elasticity and help protect against environmental aggressors that can lead to premature ageing.
Unlike other serums that are marketed as 'anti-ageing', ESPA's ProSerum does not promise to reverse the effects of ageing, but rather prevent further damage making it ideal for slightly younger skin (aged around 24-35) which is why the brand have given it a slightly lower price-point than other lines at £48 a bottle - see it as an investment.
How does it work?
Optimal Skin ProSerum works by activating the skin's 'natural revitalisers' (collagen, ceramide and hyaluronic acid) and working in harmony with the skin to provide both instantly visible results and long-term benefits.
The ingredients used are 99% natural, and about 10% we'd never heard of before - Balloon Plant, for example, which helps to calm skin and even tone. Among the more recognisable ingredients are omega 3, 6, and 9, vitamin A & E, sunflower seed extract (to boost Ceramide production), white lupin extract (to encourage natural collagen production) and rose hip and echium oil (a source of essential fatty acids and vitamin A which can help prevent premature ageing).
We asked ESPA about the best way to use the serum and were told there isn't really one, it's more a case of working out what is best for your skin type. One dry-skinned expert recommended using three drops morning and night while another, with more 'combination' skin, prefers to mix with moisturiser and use only in the evening. The one 'suits all' tip we did pick up during our consultation was to apply the formula by gently patting it onto the skin, which you should always do with a serum. Otherwise, it's up to us…
What did we think?
When we tested the product on our hands we were immediately struck by the lightness of the formula (it looks deceptively oily in the bottle) and how quickly it is absorbed by the skin – leaving it looking instantly nourished and gleaming rather than shiny. Full marks for first impressions.
After a bit more testing and talking with the experts, I was led away to a treatment room in the wonderfully luxurious (there is no other word to describe it) Bulgari Spa. Past the gold leaf mosaic pool, through the tranquil relaxation room and along one of the onyx-walled corridors, I arrived at the treatment room and swiftly positioned myself in the heated bed.
ESPA therapists begin their treatments with a quick smell test that lets a client's body tell them what the skin needs. I was offered two soaked cotton pads and asked to smell both and say which appealed to me more. I decided on the first one, "That means you probably have quite dry skin". A quick look under a specialist skin lamp confirmed this and my therapist gave me a mini-bespoke facial to hydrate me – finishing with a generous helping of ProSerum. Ten minutes later I was makeup free and a little anxious about walking through the Bulgari Bar but when I looked at my reflection I was genuinely pleased. Yes I could have done with a coat of mascara, but my skin looked more hydrated than it had in years, without feeling oily or looking shiny.
A few days later, and I think I've worked out the best way to use ProSerum for me: two drops before bed. My skin absorbs it immediately and I wake up feeling hydrated and ready for makeup. I really am very impressed with this product, it's a serum, treatment and primer in one, and unlike other anti-ageing or preventative products I have tried it isn't too heavy for my skin.
ESPA Optimal Skin ProSerum is available now from www.espaskincare.com, ESPA spas and salons worldwide, Liberty and selected Harvey Nichols stores.