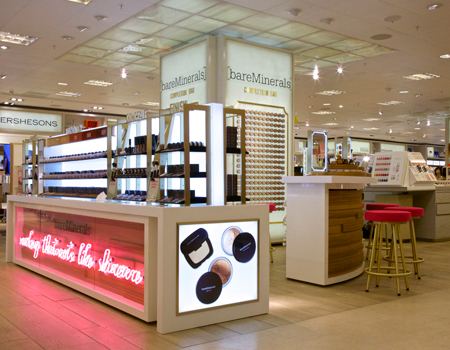 Back in September mineral makeup brand bareMinerals unveiled their brand new interactive complexion bar in the Beauty Workshop at Selfridges Oxford Street. This week, Wahanda popped in to have a snoop and a quick make under.
The bar
Brightly lit with dashes of neon pink and bronze, the complexion counter is a sort of playground where women can discover, explore and experiment with makeup.
It's not all fun and games though. Makeup is a serious business, which is why the bar was specially designed for easy navigation that allows women to shop for products in the recommended order of application: primer, foundation, concealer, finisher. Furthermore, there's a team of complexion experts on hand to teach women about makeup and 'demystify the sometimes complex process women endure when it comes to choosing the right shade of foundation and complexion products'.
Customers are encouraged to book in for a bareMinerals signature makeunder, which includes personalised shade matching, and bespoke tips and tricks. Having grown tired of my current foundation – and keen to check out the hottest bar in town - I decided to try out the service for myself.
The makeunder
I made my way through the ground floor of Selfridges - bypassing Chanel and (even more impressive) the Christmas confectionery selection – and found myself, quite literally, in front of a wall of foundation. I met Tasha, my complexion expert for the next 30 minutes, and together we got to work finding my perfect, tailor-made complexion kit.
From vibrant eye shadows to glossy lipsticks, all bareMinerals products are made from specialised mineral blends that are actually – wait for it – good for the skin. We started with a layer of nourishing primer, which, despite an oily feel, left my skin wonderfully matte, then began the 'complex process' of finding me a foundation. With an expert by my side it took about 30 seconds, narrowing it down to three possibles before deciding on one that matched my skin perfectly.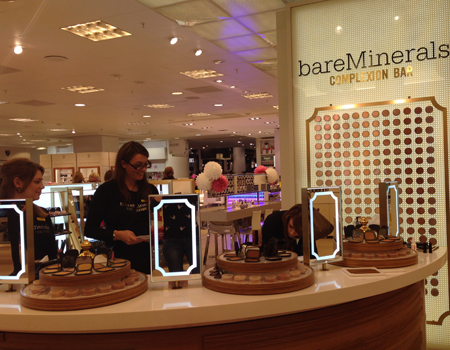 The vast array of mineral foundations come in powder form (loose or pressed) which, having only used liquid foundations myself, I was slightly unsure of. When Tasha showed me how to 'buff' it into my skin with a brush, I was amazed at the way the powder melted in and, after a second coat, I was really impressed by the coverage. After some cleverly applied concealer (on the eyelids and around the nose – who knew?) Tasha introduced me to my new favourite bareMinerals product: Warmth.
Like a very gentle bronzer, Warmth can be applied all over the face to bring out some of the natural colour foundation covers up – without risking that orange look. Ever the teacher, Tasha got me to apply it myself beginning at my forehead and using a figure '3' motion at the side of my face to highlight my cheek bones and jawline.
Finally, we added some highlighter before dusting over some Mineral Veil to set. I couldn't believe how light and natural the end result was.
The result
I went back to the office (where I received a few compliments on my new look: "Much better") finished up the day then headed to an event that meant I didn't get home until 10. When I looked in the mirror and wasn't quite as alarmed as I usually am at the end of a long day. I don't know if it was the setting powder or the combination of products but my makeup was still in place, my complexion still pretty warm and (best of all) I wasn't shiny.
The bareMinerals makeunder is a great experience for anyone looking for makeup tips, a bit of a change or getting an expert to do their makeup. The service is complimentary to Selfridges shoppers although, as anyone who has visited the department store at this time of year will know, it can get pretty busy. The bar will be hosting two 'girlfriends parties' next Tuesday 19th and Wednesday 20th. Call 0207 318 4179 to book in for complexion perfection.
For anyone not in London, look out for more complexion bars opening in Selfridges stores around the country this year.