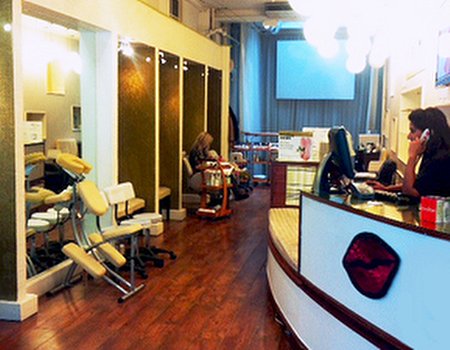 Located in the heart of Soho, Cucumba is an urban 'pitstop' providing affordable beauty and massage therapies to fit around even the busiest lifestyle. If you've got a spare minute and a chipped nail, the dedicated team will do whatever it takes to fit you in and have you looking polished and feeling pampered in no time.
From their cool green walls to their 'extra mile' attitude to customer service, Cucumba aims to bring something fresh to the world of beauty. They don't sell treatments, they sell time, meaning customers can drop in, tell them what you want and how long you have and they will adapt their treatments to suit your time, budget and beauty needs. Just don't call them a salon…
Last week, we caught up with Cucumba to talk massages, manicures and, ahem, Formula One racing…
Cucumba calls itself an 'Urban Pitstop', what exactly does that mean?
The 'Pitstop' idea refers to Formula One. It's to do with living life in the fast lane and finding a convenient place to stop off for a bit of maintenance the moment you need a bit of petrol, or your tyres changed. The idea came about after years of struggling to find beauty and massage appointments that fit in with busy jobs and lifestyles [founders Stella and Vivienne were working as a lawyer and a chartered accountant in the city at the time]. It seemed the only way you could get treatments like massages without taking the day off work was to use one of those £1 massage chairs. We saw a gap in the market for a flexible place that could really offer customers what they want when they want it.
How did it come to life?
We drew a race track! We really thought about how at a pit stop you have to be in and out. You can't waste time. We thought about Quick Fix services and started asking really basic questions like 'Why does it take an hour to do a pedicure, or 45 minutes for a Brazilian?' We did undercover research analysing every step of treatments in other salons, breaking down the process and thinking about how to cut the 'kerfuffle'.
Sometimes when you have a treatment it's a treat and you want a therapist to take their time. But often, especially in busy cities like London, that's not what customers want. We realised that we could offer treatments in a quarter of the time, meaning we could reduce the price for the client. Also not everyone feels comfortable in a typically girly salon. We wanted to create a place where everyone would feel comfortable.
If someone pops in for a quick massage or oil change on their lunch or way home, how likely is it they'll be seen?
They will be seen. I've been to salons and have been turned away because either I'm not on the list or the only therapists available aren't trained in what I need. At Cucumba, all of our staff (including reception) are multi skilled and trained to the same high level, so that whoever walks through the door, whatever they want we can provide it.
We're also flexible with our time. If you come in and tell us you're on your lunch and don't have long we'll push back our lunch to fit you in or, often, cut it completely. We will do whatever it takes to make sure you get seen.
What's the most popular treatment at Cucumba?
There are a few. Waxing is probably the most popular but we're also well known for our manis and pedis and threading is very popular.
We're big on massage here too and the reason we're so good at it is because what we do is not light and fluffy. When you come for a massage you want to relax but you want to carry that feeling with you throughout the day and rest of the week. You can't achieve this with a light touch. At beauty school you learn a routine, but we retrain everyone here because we know you can't apply the same routine to every client. You need to tune in to someone's body, diagnose where there is tension and try to remedy it with a blend of techniques. Once someone has a Cucumba massage they stay loyal.
You mentioned your manis and pedis are famous. Can you give us any tips on nail care?
A good manicure is not about how the nail looks. It's about the whole hand. One big thing we tell people is to moisturise – not just your hands, but your nails. Your nails are like your hair, they're both made up of keratin. Can you imagine washing your hair without conditioning it? Think about how many times a day you wash your hands and nails and don't condition them. It's so important for healthy-looking nails. We use CND Solar oil; it's the best on the market.
No matter how much money you've got or how much plastic surgery you have, it's your hands and nails that will give you away. Look after them. Moisturising only takes 30 seconds and you can do it at your desk or on the tube. When it comes to polish we use Essie. We love it and so do customers.
Do you get many celebrity clients?
We do have a lot of celebrities coming here, but part of our ethos – and I think this is why they like us – is that we treat everyone the same. The design is deliberately open space so you know what you're getting when you walk in. Maybe some celebrities wouldn't like being that on show, but it's deliberate so that everyone gets the same treatment.
If someone needs to jump the queue we talk to other customers discretely and explain that someone else is in a rush and ask if they would mind if they went ahead. But we would do that for every single client. We think everyone should help each other out, that's where our saying 'spread the love' comes from.
What about male customers?
Well that's part of the whole concept, we didn't want to be a traditional 'salon' that might be intimidating to some – particularly men. That's why we're not pink, we don't wear the 'nurses' uniform and we have guys on the team.
Everything we do is unisex and we adjust treatments, time and prices accordingly. A manicure for a guy doesn't take as long as it does for a woman. We can scrap the polish and save a male customer time and money, or offer a little extra massage; total customisation. At Cucumba you buy a therapist's time rather than a treatment so you can customise it however you want. If a man comes in and he plays a lot of sport and his feet are suffering we can adapt a pedicure treatment to spend more time working on the nails, dead skin or massage.
What in your opinion is the best thing about Cucumba?
As a therapist, it's brilliant being part of a team. In this industry everyone is a sole trader. Even in a team of ten, that's ten people working individually. It's great because you're in control of what you can and want to do, but you're also in constant competition. Here, we want consistency of service so everyone is trained the same way so there is no competition. We try to discourage customers from going to the same therapist every time they visit to prove that we're all equal and we're all as brilliant as each other.
For customers, it's the fact that what we do is from the heart. We come in early to see people who need to be seen before work. We stay late and skip lunches so that we never have to turn anyone away and people really appreciate it. The biggest compliment is that we've had other salons in the area that have had to turn customers away sending them our way because they know that we will do everything to see that customer. We're not about the money. You're not in this world for very long, so what's it all about? Laughter, positive memories and making other people smile. That's what we try to do. It really is from the heart – that's what makes the pain worth it!